To create a content marketing strategy that works for your business needs many elements to work together.
Just good keywords or just seo optimized content don't get you traffic or leads anymore.
This article will help you create your very own content marketing strategy with which you can create Top quality content that can get you
New leads & customers

Build trust with your leads and customers

Increase retention rates
This is the exact same strategy that we use for our clients and for our own company.
Read each point carefully below, and apply these steps in your company. I am also giving away free templates which you can use to manage and execute your content strategy effectively.
Our content strategy is built on these 10 step processes. Each of these steps will really provide you value in creating content that works.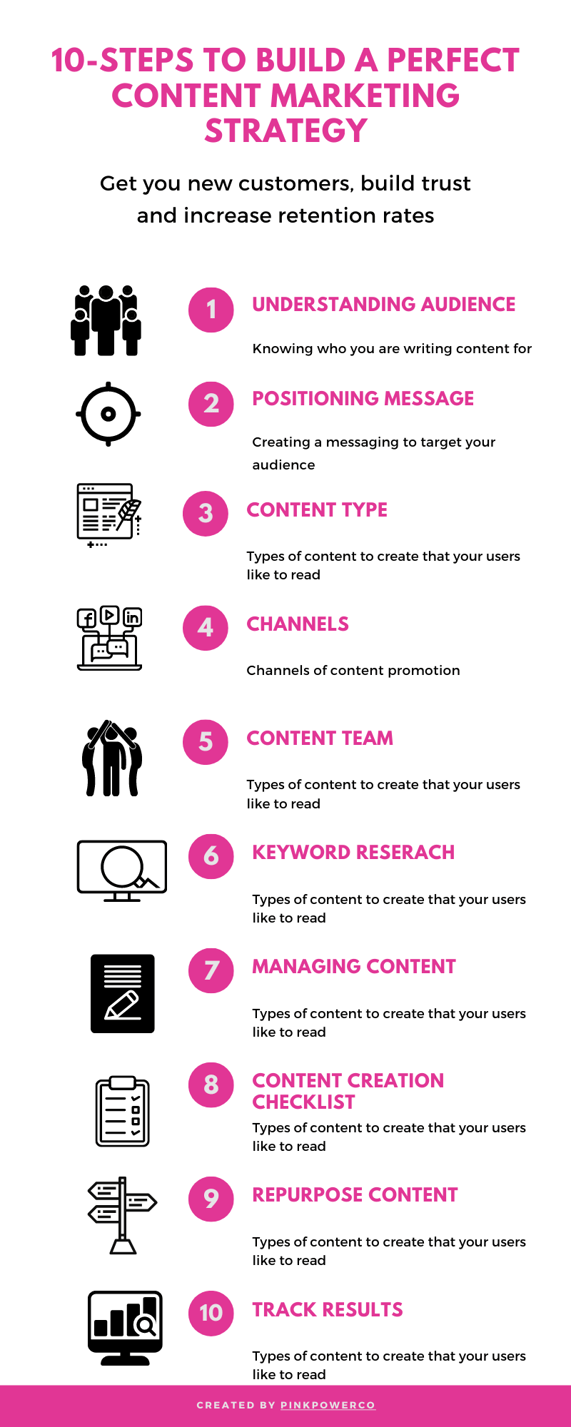 1. Knowing who you are writing content for

2. Creating a messaging to target your audience

3. Types of content to create that your users like to read

4. Channels of content promotion

5. Content Team & Guidelines

6. Keyword & Topic Research

7. Managing a Content Publishing Calendar

8. Content Creation Checklist

9. Refurbishing & Repurposing Content

10. How to track results from your content marketing campaigns
Let's go deep dive each step and how you can set it up for your company.
Knowing who you are writing content for
What Makes Someone Your "Best" Customer?
A company type, or an individual type, or an account type or an industry who:
Spends the most

Buys most frequently

Buys most quickly

Has the most value to gain
There are Three Ways to Determine Your Best Customer
Let's understand each side:
Gut: List down all businesses who have had great relationships with your company using your years of experience, and if you and your team loved working for them.

Sales: Understand it from the sales team.
Ask these questions from your Sales Team to see about what they feel about the best customers.
1.) Who buys from us most often?
2.) Who has the largest average deal size?
3.) Who purchases most frequently?
4.) Who "gets it" most?
5.) Who benefits most?
These questions will give you a list of top customers which your sales team thinks are best for the company. Add these to the gut list.
Now the third and the most important part is Data.
Using your CRM data to fill in details in the below sheet format
Highest ranking industry is your best customer
Once you have used all these three ways to identify your top customers,
It's time to give it a face.
This is What to Detail in Your Ideal Customer Persona:
For B2C Businesses:
1.) Demographic
2.) Interests
3.) Pains and aspirations
4.) Current solution
For B2B Businesses:
1.) Firmographic
2.) Job title/job role
3.) Pains and aspirations
4.) Current solution
Creating a messaging to target your audience
Your target is to create the positioning for your identified best customer.
Here's how to create the right messaging:
Identify Best Customer: The people who buy fastest, spend the most, and return most often. We have already done this above.


Change & Stakes: How can your product/service change your customer's world and why your solution is imperative.


Villain: The thing standing in the way of change. What's holding them back from reaching the promised land.


Promise Land: The end state for customers. The result you'll create


Simple Promise: A one sentence promise for transformation. Your market knows it. So does your team


Superpowers: The key features that create transformation. The "how" you do what no one else can do.



Proof & Results: The essence of great marketing is "people like us do things like this. Show your best customers that others like them are experiencing the promised transformation.
Once you are able to answer these points above, you will have full clarity in your mind to build that right message.
Types of content to create that your users like to read
These are the types of content preferred by most b2b customers:
Blog Post/Article

Videos

Step by step process broken down into creative posts

Ebooks/Whitepapers

Webinars
Channels of content promotion
Best B2B content marketing channels are:
Linkedin

Youtube

Instagram

Podcast

Live videos/webinars

Guest Blogging

Quora

Medium
Content Team & Guidelines
Your content team should include the following:
SEO analyst for keywords and topic research

Content writer

Editor

Designer

Project Manager
It is also advised that every company should have their content writing guidelines which helps in maintaining consistency of the kind of content being generated.
All of the above team members should read this guideline document over and over again to keep the audience understanding as their top item in mind.
Read this article here which lists complete content writing guidelines and in the end you can download it as well.
Keyword & Topic Research
Before you even start to write content, you need to know what you're writing about — and you can kill two birds with one stone if you combine search engine optimization with your editorial calendar planning.
It illuminates your competitors content strategy, and highlights the strengths and weaknesses in your own. And it allows you to optimize individual articles and your content strategy as a whole to bring in more traffic.
There are three ways which we use to do keyword research and identify the right topics to create top quality content.
#1 Use SEMrush for Keyword Research and Analysis
SEMrush

is a complete end-to-end SEO platform, but for you to understand and keep things simple, we'll focus on using its use as a keyword research tool.
Search for a keyword in Keyword Analytics to receive an auto-generated list of related keywords with their volume, keyword difficulty, CPC and competition.
Phrase Match

gives you keyword queries that contain

"bodybuilding"

while Related Keywords provides more keywords that may or may not contain the term.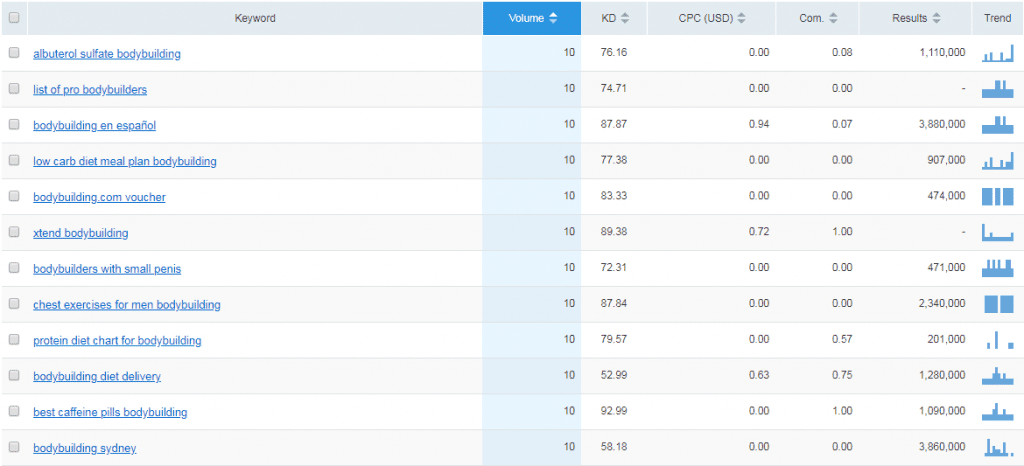 You can filter these results to include or exclude certain words, then export them to a spreadsheet for your master keyword list.
Another way to use SEMrush for keyword research and analysis is to see what your competition ranks for — this would be impossible using the manual method!
Use the Domain Analytics feature to input your competitor's domain, click Search, and you'll receive a list of keywords your competitor ranks for, along with how well they rank for those keywords, the URLs that landed them those SERPs, competition and keyword volume.
# 2 Use google for keyword research
Here's the old-fashioned way of researching keywords, using "bodybuilding" as an example. Search for "bodybuilding" in Google Keyword Planner, then click "Get Ideas." Google will provide you with 436 related search queries, which you can then export that into a spreadsheet for a master list.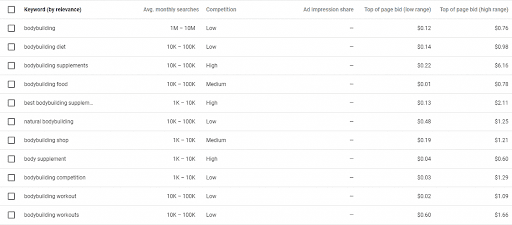 You can also use Google itself, looking for "related searches" at the bottom of the page. Copy and paste those terms into your master keyword list.
Bolded words in those related searches (for example, "workout routine," "supplements," etc.) are semantically related, and valuable to include in your content.
#3 Most advanced and proven way - but its manual and takes times and effort:
In this method we start by building seed keywords.
Seed keywords are the top keywords for your product/service.
This practice ensures that you make enough content for each of your product and services.
For example if you are software development company, your top seed words would be:
Software development

Web development

Software design

Software developer
The above keywords can be generated by simply brainstorming a few ideas and finding at least top 10 seed keywords.
Convert these seed keywords to seed topics around which you can create content.
This is how:
Go to moz keyword tool ,
enter your top seed word, select these two filters (refer image below):

and find more relevant keywords.
Add those keywords in a spreadsheet
Now to choose the top most influential keywords, you have to get their volume. This is how to do it:
Go to semrush, keyword difficulty tool
Copy all keywords from seed keyword spreadsheet and paste it in the tool
You will get all keyword volumes, export the list and copy paste keywords along with volume column
Paste it back to seed keyword sheet (the keywords will be automatically sorted by high volume on top)
You should start creating content for these top keyword topics.
Managing a Content Publishing Calendar
Content Calendar can really help you organize your content creation process with your content writers and design team.
Using this calendar, you will never run out of topics and keywords for which you can create content.
Here is a free download of a content calendar template. Copy and use it for your own company.
Content Creation Checklist
To help you create the most engaging and relevant content, we have created a checklist that your content writers and editors should follow to make sure all SEO points, relevancy points, UI points and Readability points are covered.
Here's our free download of a content creation checklist.
Refurbishing & Repurposing Content
Good web content gains value over time. That means there is no such thing as a "set it and forget it" content strategy
How to Edit Old Blogs to Increase Organic Traffic
What you can do to make the high ranked content even juicier for search engines. Here are three ways to do just that:
1. Bump up the word count.
If the blog post you've selected has less than 2,000 words, one simple way to increase organic traffic is to increase the word count — but don't just fluff it up. Make sure any content you add also adds value. Instead of watering down paragraphs, add completely new sections that cover points you haven't introduced yet. Chances are, the added word count will allow you add additional keywords. Speaking of…
2. Increase keyword density.
Input your post's url into SEMrush to discover the keywords that it's already ranking for. Are you ranking just off the first page of the SERPs for any specific keywords that have a high search volume?
Take a look at the keywords which are ranking in positions 2-10 and try optimizing for these first — moving from third to first position for a term with high search volume can drastically increase organic traffic. Plus, it's easier to bump a page up the SERPs when it's already ranking for that keyword.
Once you've identified a relevant keyword target, add in it — but don't stuff the page. Only use additional keywords where it makes sense.
Don't forget to hyperlink these keywords to other relevant blog posts you've written, and incorporate them into headings and sub headers (use those H2s!) for increased SEO oomph.
3. Target similar keyword strings.
If your page is ranking for a keyword like "social media management," you might want to look into similar long-tail keywords, such as "social media management pricing" or "social media management tools." Chances are, adding in sections that address these subjects will be fairly easy. Additionally, by adding in a few extra long-tail keywords, you'll have the added bonus of increasing the total keyword density of the page.
How to track results from your content marketing campaigns
The Content Marketing Metrics That Matter
| | |
| --- | --- |
| SMART GOAL | RELATED KPI |
| | |
| Brand awareness | Site traffic, social media followers, subscription sign-ups, mentions |
| | |
| Revenue | Daily sales, site traffic |
| | |
| Conversions | Conversion rate, shopping cart abandonment rate, associated shipping rate trends, competitive price trends |
| | |
| Brand loyalty | Returning customers, promoters, product reviews, referrals |
| | |
| Customer engagement | Likes, shares, follows, mentions, backlinks |
| | |
| Rapport and trust | Returning customers, promoters, followers, mentions |
| | |
| Strategic partners | New partnerships, mentions, backlinks |
Look at your SMART goals and KPIs to determine the success of your content marketing strategy. Did you achieve your goals and KPIs? Were you close to reaching them, or were you off in your estimations?
Here are some tools to help you with your content marketing strategy analytics and results:
HubSpot marketing analytics and social media software

Mention

SharedCount

Sprout Social

Google Analytics
With effective content marketing, you can reach your target audience and increase conversions.
To get started, determine which type of content works best for your business and audience, and develop a content marketing strategy to begin boosting your bottom line today.