Digital Marketing for DTC Brands!
We build and

Scale

digital brands
with our proven marketing strategies for Customer Acquisition & Retention
In addition to full Facebook ad services, we provide strategy & tech support to help you achieve long-term growth.

With PinkPowerCo, you'll have a motivated team of content creators and experienced tech marketers ready to help you sell at scale.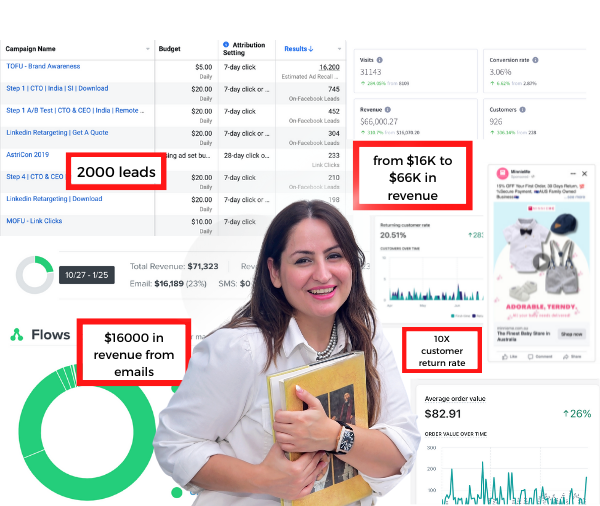 ENJOY THE THRILL OF SEEING YOUR SALES NUMBERS GROW EVERY MONTH!
Our Services
E-COMMERCE MARKETING STRATEGY
A blueprint & high-level vision that guides how to interact with prospects, the channels you'll use to reach them, and the messaging you'll develop to communicate benefits and build your brand.
Messaging & Brand Strategy
Social & Content Strategy
E-commerce Tech Planning
Shopify Website Development
CUSTOMER ACQUISITION - PAID & ORGANIC
Our acquisition strategies help you acquire customers at a lower cost than competitors and retain them longer
Ecommerce Merchandising & Monthly Campaigns/Offers
Social Media Marketing
Facebook & IG Ads
Google Ads
Influencer Collaborations
CUSTOMER RETENTION & MEASUREMENT
One of the secrets to brands that maintain healthy, sustainable growth often boils down to customer relationships.
Customer Relationship Strategy
CRO & Page Optimizations
Data & metrics based on goals
Ecommerce Automation Setup
Remarketing, Email, SMS & On-site Marketing
TESTIMONIALS
What our customers say
"Thanks to PinkPowerCo's work, HrOne was able to set up a complete nurture funnel on HubSpot for all the leads within the given timeframe. The team established an effective communication channel and was prompt in responding to queries. They've gone above and beyond to ensure a successful project."
"Since the start of the partnership, PinkPowerCo has been consistently meeting expectations and achieving the goals of the project, impressing internal stakeholders. The team's industry expertise, professionalism, and customer insight are hallmarks of their service."
"PinkPowerCo's work has contributed to a significant increase in website traffic and revenue. Process-oriented, they have an effective workflow and utilize communication tools. The PP team is like GaryVee of social marketing"







WE TAKE THE FEAR & FRUSTRATION OUT OF THE AGENCY MODEL
Marketing is your only Differentiator
As a DTC brand, you know that digital marketing is key to your success, but it's hard to know where to start or whom to trust.

You're not alone. Most DTC brands feel lost when it comes to marketing. They don't have the time or resources to do it themselves, and they can't afford to hire a full-time team.
Pink Power is here for you. We offer 360-degree marketing campaigns that bring in revenue, from STRATEGY, CUSTOMER ACQUISITION, and RETENTION to complete campaign MEASUREMENT & OPTIMIZATION. Plus, we have a motivated team of content creators and experienced tech marketers ready to help you sell at scale.

Take 30 minutes to have a quick chat with us. We think you'll be pleasantly surprised by some of the insights you'll gain from this small investment of your time.
I WANT TO DISCUSS MY PROJECT