PERFORMANCE MARKETING FOR DTC BRANDS!
Helping your e-commerce business SCALE to

5X your current Revenue

using data-driven
marketing strategies, to build
a profitable online business.

We'll work with you to understand your unique business needs and goals
and develop a customized strategy tailored to your business.

From optimizing your website and increasing traffic to improving your conversion rates and
increasing your customer lifetime value, we'll help you achieve your business objectives.

Don't settle for mediocre results. Let us help you take your e-commerce business to the next level
with our proven performance marketing strategies.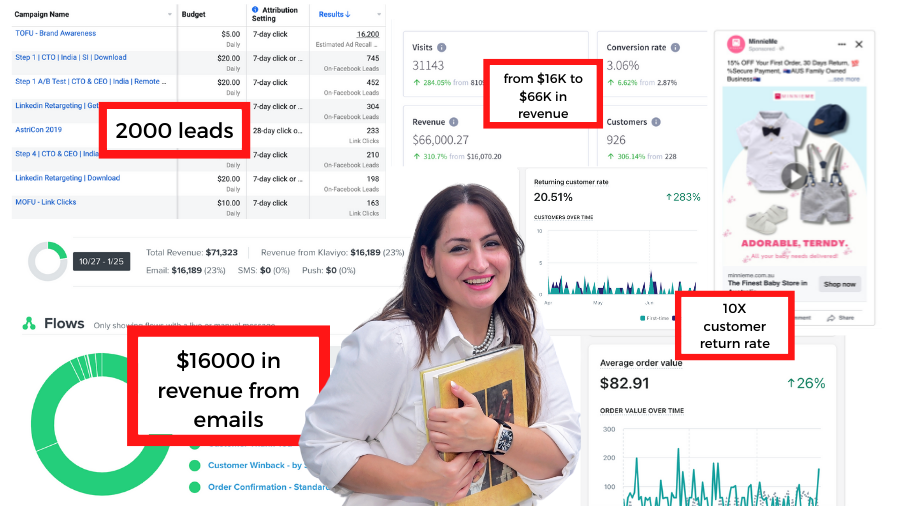 OUR CUSTOMERS EXPERIENCE WHILE WORKING WITH US
Struggling to use Facebook and Instagram Ads, and feeling
frozen in revenue growth?
Your product may be good but your empty sales aren't doing you any favors. Wouldn't it be great
if you could get 200% more traffic on your website AND convert & retain 5% of them?
"Pink Power has contributed to increasing our sales in the US market through the social media campaigns they've created — these campaigns have achieved a strong ROAS for over five months. Moreover, Pink Power has a great understanding of SMM, being proactive and responsive to our team."
"Since the start of the partnership, PinkPowerCo has been consistently meeting expectations and achieving the goals of the project, impressing internal stakeholders. The team's industry expertise, professionalism, and customer insight are hallmarks of their service."
"PinkPowerCo's work has contributed to a significant increase in website traffic and revenue. Process-oriented, they have an effective workflow and utilize communication tools. The PP team is like GaryVee of social marketing"
Claim 30-min free consultation · Free Ads Audit
Growth Roadmap · No Contract · Pay for Performance
ENJOY THE THRILL OF SEEING YOUR SALES NUMBERS GROW EVERY MONTH!
We use these services to build your next million-dollar business.
Everything you need to grow in revenue, by acquiring customers and
retaining them to become your loyal customers.
SOCIAL MEDIA MARKETING
E-commerce Strategy & Organic Social Media
The biggest challenge of an e-commerce business wanting to grow on social media is standing out in a crowded market, adapting to changing algorithms, creating engaging content, and maintaining a consistent brand image.
This is where we come in place.
Develop a Unique Brand Voice and personality to help your brand stand out on social media.
Create Engaging Content: Creating high-quality, visually appealing, and relevant content like reels, posts, stories, carousels, and others that are shareable and eye-catching.
Leverage Influencers: Collaborating with influencers and micro-influencers with a dedicated social media following to reach a wider audience and increase visibility.
Engage with Your Audience: Engaging with your followers on social media to build relationships and increase brand loyalty.
Monetizing Social Content: While organic reach can be limited, businesses can increase their visibility by using sponsored content on social media platforms.
PERFORMANCE MARKETING
Facebook & Google Ads, Automation & AI
Our acquisition strategies help you acquire customers at a lower cost than competitors and retain them longer
Ads & CRO Audit
E-commerce Tech Implementation for
Data-Driven decision making
Shopify Store Optimization
Facebook & IG and Google Ads Strategy &
Campaign Management
E-commerce Merchandising & Monthly Campaigns/Offers
Ad creatives designing
Scaling with data-driven results & optimizing
campaigns regularly
Customer Retention Strategy that is automated and runs 24x7 with Personalized targeting to build solid relationships & meaningful connections with them.
Applying Data & Analytics to create targeted campaigns tailored to customers' interests.
Using Remarketing, Email, SMS & On-site Marketing channels to stay ahead of the competition
Claim 30-min free consultation · Free Ads Audit
Growth Roadmap · No Contract · Pay for Performance







WE TAKE THE FEAR & FRUSTRATION OUT OF THE AGENCY MODEL
GREAT Marketing is your only Differentiator
As a DTC brand, you know that digital marketing is key to your success, but it's hard to know where to start or whom to trust.

You're not alone. Most DTC brands feel lost when it comes to marketing. They don't have the time or resources to do it themselves, and they can't afford to hire a full-time team.
Pink Power is here for you. We offer 360-degree marketing campaigns that bring in revenue, from STRATEGY, CUSTOMER ACQUISITION, and RETENTION to complete campaign MEASUREMENT & OPTIMIZATION. Plus, we have a motivated team of content creators and experienced tech marketers ready to help you sell at scale.

We emphasize on a data-driven approach and focus on results to build a solid partnership with our clients.

Take 30 minutes to have a quick chat with us. We think you'll be pleasantly surprised by some of the insights you'll gain from this small investment of your time.
BOOK A FREE CONSULTATION