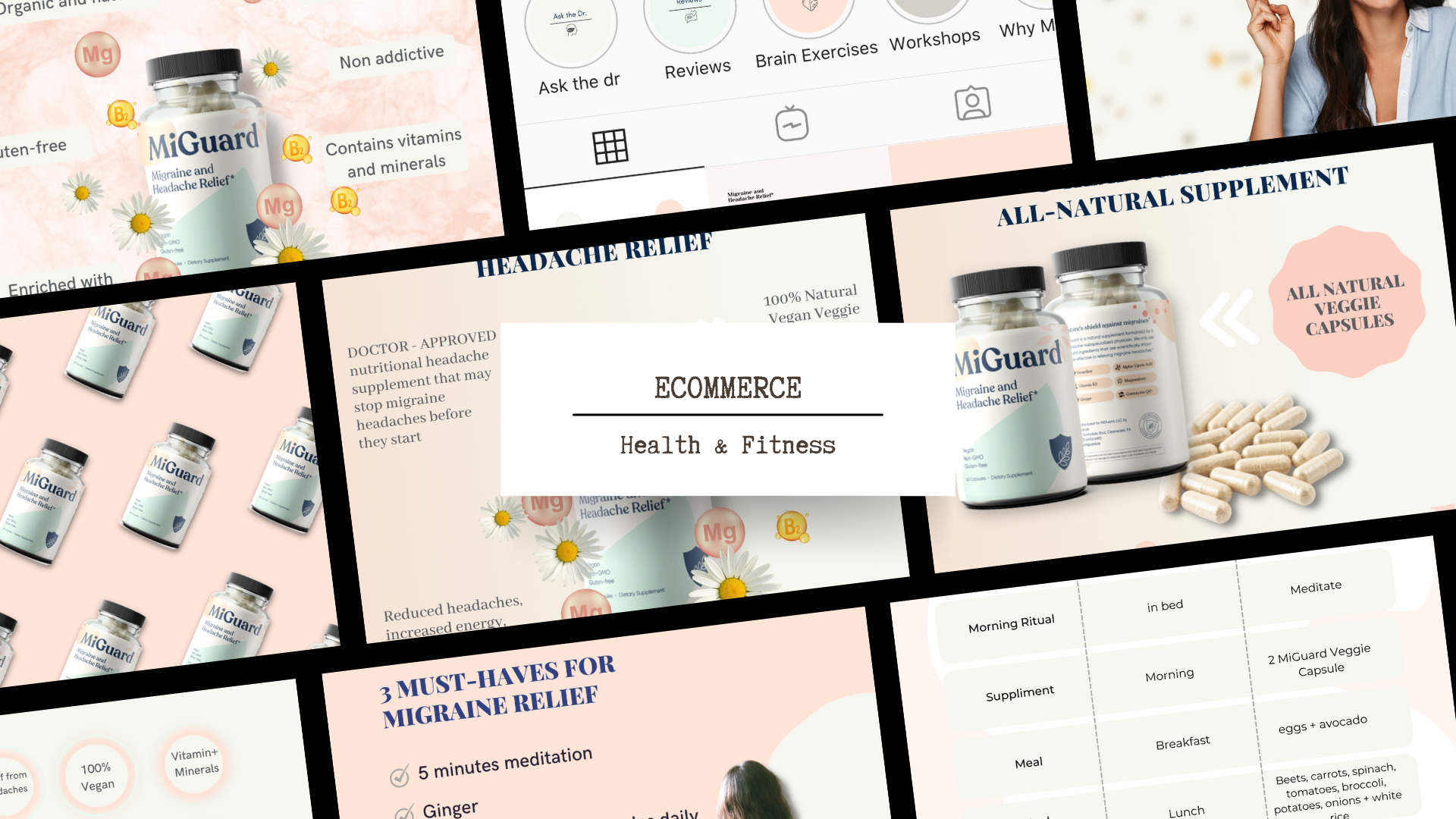 Case Study
The All-Natural non-GMO Migraine Relief Health Supplement was looking to build awareness around Migraine. The brand claims that its products "help stop migraine attacks even before they start". We build an omnichannel strategy for the brand
to build awareness & sales using social platforms, performance ads, email marketing, Shopify store optimization
and influencer marketing that brought 4.5% of attributed lift in sales
4.5% lift in online sales
4M users
showed interest in buying
GOALS
Boosting brand awareness and sales by educating about Migraines

MiGuard wanted a way to boost brand awareness and increase sales both online and build partnerships with Doctors, Naturopaths, and Chiropractors, and measure the reach on both channels, working towards a sustainable growth strategy.

The All-Natural Migraine Relief Supplement was created by a headache subspecialized physician. MiGuard is the all-natural Doctor-approved nutritional headache supplement that may stop migraine headaches before they start.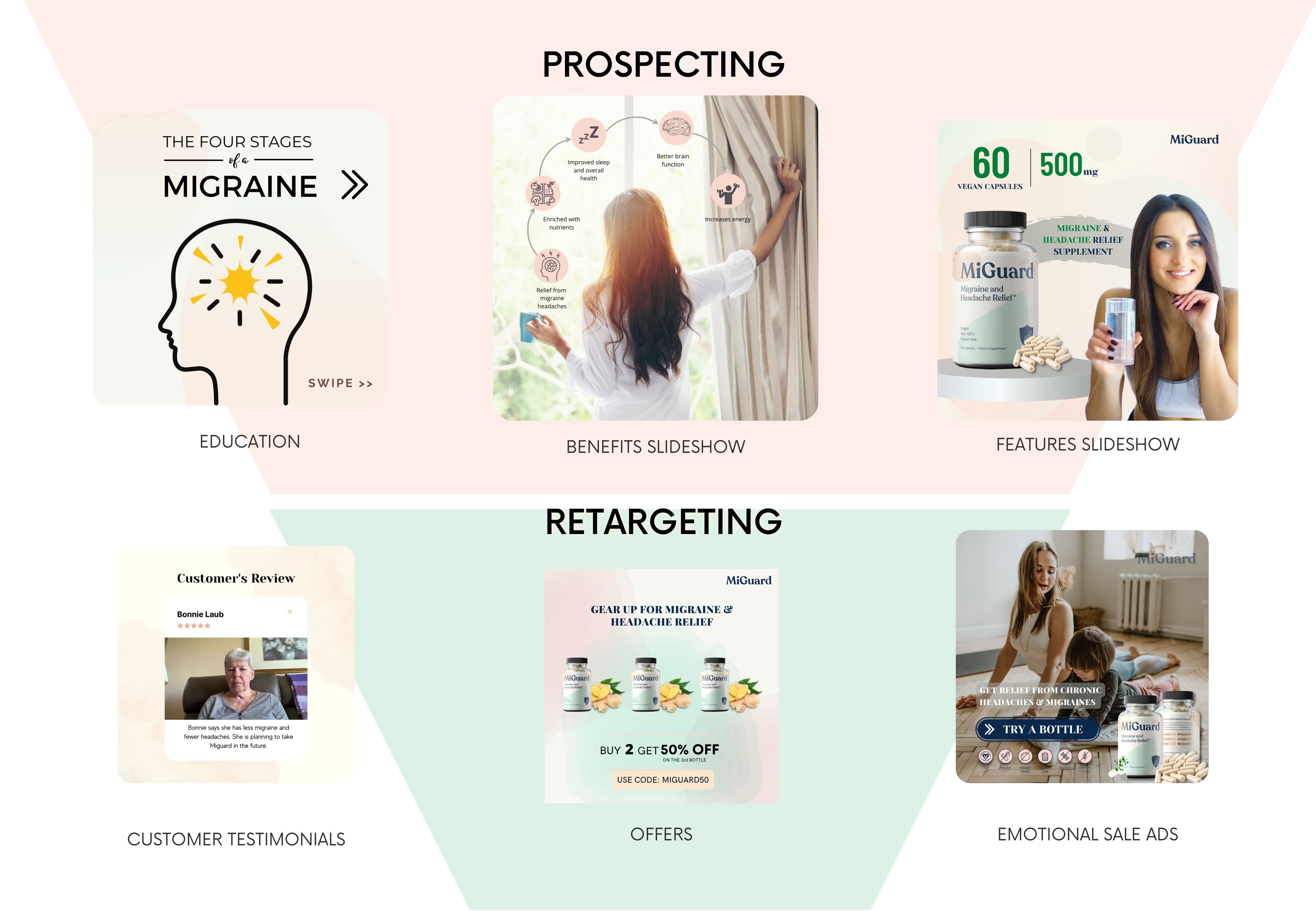 SOLUTION
TESTING OMNICHANNEL IMPACT

MiGuard team engaged us as their partner agency to manage their complete eCommerce marketing, social media marketing, Influencer Marketing, and performance ads. We build an Omni channel strategy for targeting women suffering from migraines on social platforms and an email marketing strategy to build relationships with other doctors to help promote the product.

Using UTM and google analytics, we were able to measure the attribution of traffic from all sources and audience types and tested a mix of campaign objectives including conversion, engagement, video views, traffic, catalog sales, and brand awareness. The team built video and photo ads with creative that showcased the brand's products in use by real women with videos and UGC content. Each ad included a code to save 15% off the price, and an "Order Now" button that linked to the brand's product page.

We redesigned the product pages to make them more faster and effective for conversions using Shopify apps that worked on-site based on user behavior leading to a 25% increase in average order values right from the start.

The campaigns also promoted a "subscription" offer for regular use. We built a subscription portal for the client in their Shopify systems.

Email automation was set using Klaviyo & Privy for pre-purchase and post-purchase funnel targeting.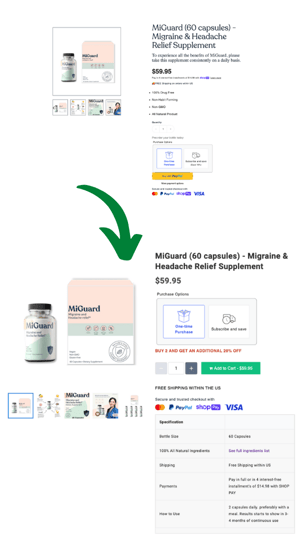 RESULT
Huge appreciation of the product among Doctor Community & increased brand awareness amongst women suffering from Migraine attacks

Social Media Marketing, Shopify Store Optimization & Omni-channel eCommerce marketing brought together

4.5% lift in online sales

4M users showed interest in video ads

15% month on month growth in email list

12-point lift in brand awareness

10-point lift in purchase intent
"Pink Power works strategically, testing their ideas to discover what works best for our company. They have contributed to increasing our sales in the US market through the social media campaigns they've created — these campaigns have achieved a strong ROAS for over an year. Moreover, Pink Power has a great understanding of SMM, being proactive and responsive to us"
Imagine what we could do for you.
Take 30 minutes to have a chat with us.
You might be pleasantly surprised with what we share with you.