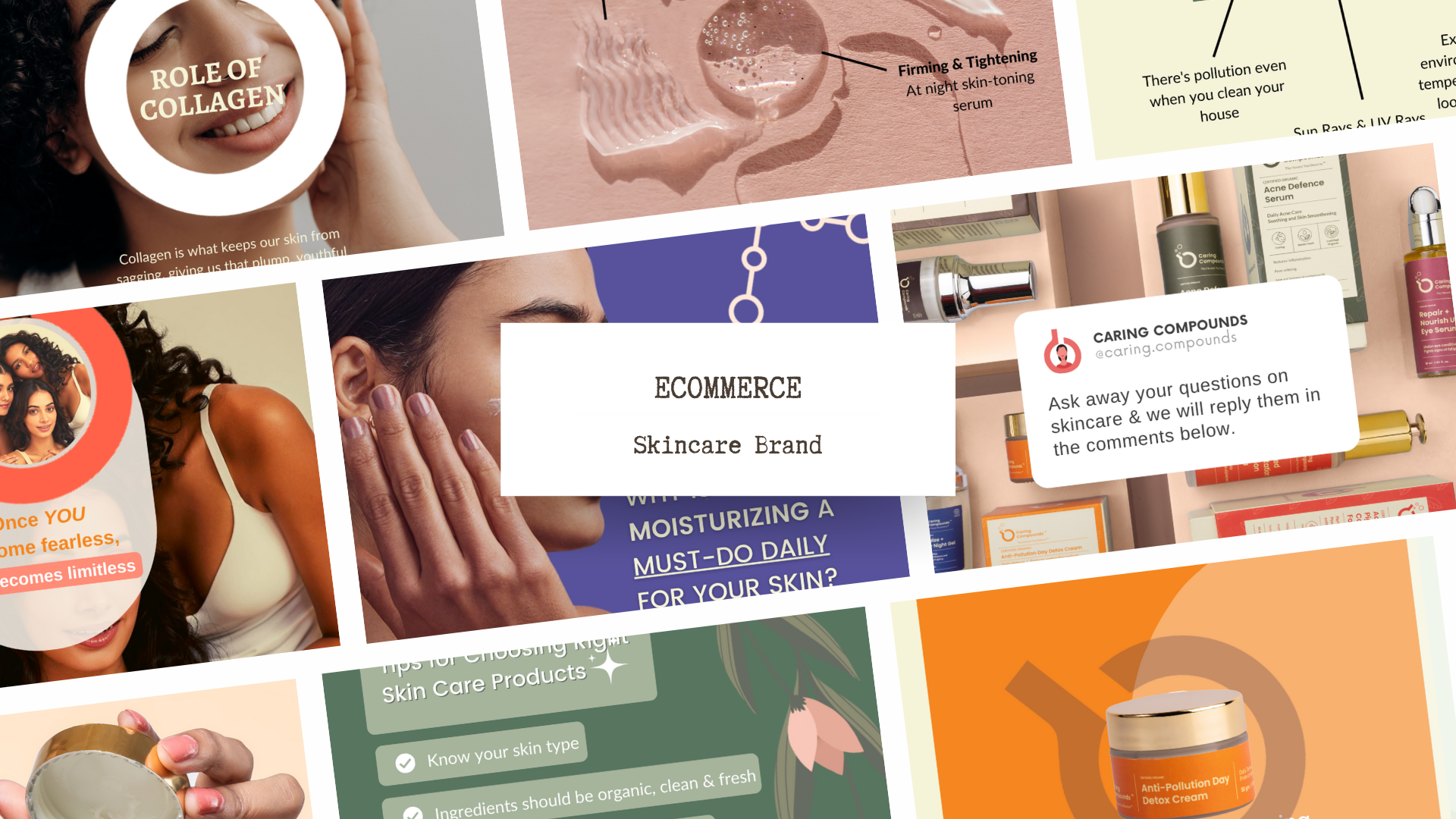 Case Study
A newly launched certified organic skincare brand for mature skin used e-commerce marketing, social media, and
performance marketing to build awareness and reach women with aging skin concerns. We ran a full-funnel eCommerce marketing plan for them using social handles & Facebook ads with diverse objectives,
earning a 4.5-point lift in purchase intent
4.5 point
lift in purchase intent among 25 to 35-year-olds
GOALS
Caring Compounds started out as a homegrown brand with grandmom's recipes for specific skincare concerns. With the aim of making skincare products that can help more women in their journey to embracing their skin as they age, the brand uses science-based formulas with organic plant-derived ingredients to create its skincare products.

To increase brand awareness, boost sales and convert new customers ahead of, during and after the launch, the skincare brand setup their complete customer journey right from awareness, acquisition, conversion to retention.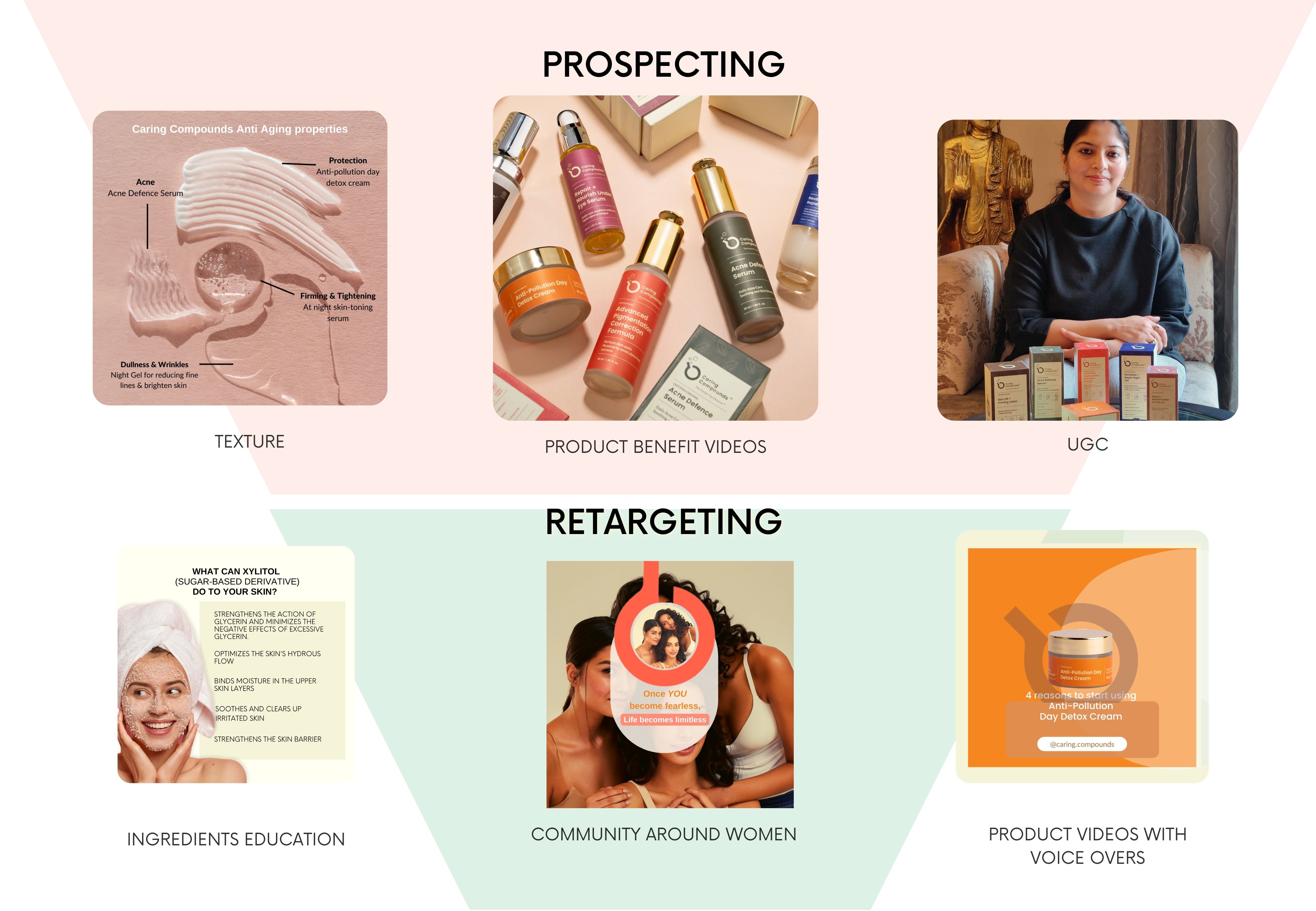 SOLUTION
Since its launch, Caring Compounds has focused big on women's problems, running campaigns to showcase the benefits of organic skincare and the care an aging skin needs while at the same time focusing on the concept of helping them appreciate their fine lines as it depicts a life well-lived. The strategy included using various ad objectives to reach people at different stages of the sales funnel and assessing the overall efficiency.

We created various short, mobile-optimized videos to use in the ads, including repurposed footage from the influencers and voice-over videos. With eye-catching animations and sound effects, the format was different from the brand's usual product-focused ads and helped engage the millennial audience.

The ads ran with a mix of upper-funnel objectives (reach, video views) and lower-funnel objectives (website conversions and catalog sales). The team targeted the campaign to a broad audience of females in India aged 25–59 who were interested in skincare. With the help of Meta's Discovery Commerce system, which matches products and services to people based on their previous online behaviors, we were effectively able to target audiences with ads appropriate to where they were on the customer journey.

The organic skincare brand kickstarted the campaign on July 7th, 2022 to generate awareness and interest with plans for making purchases in the coming months.
RESULT
A formula for success
Our full-funnel customer journey campaign has immediately started showing results in greater customer engagement, and resulted in the following:

10.8% lift in Reach
3.4-point lift in brand awareness
4.5-point lift in purchase intent among 25- to 59-year-olds
"It's been amazing working with PinkPowerCo team. We rely greatly on Facebook & Instagram for growth. Facebook helped us reach our target audience and drive an exponentially higher sales volume. By improving campaign efficiency, we have earned more customer engagement, allowing us to carve a niche for the brand in the market.
Imagine what we could do for you.
Take 30 minutes to have a chat with us.
You might be pleasantly surprised with what we share with you.