Linkedin is a B2B Goldmine!
Yes, that's true.
If you think so too, then read on to learn how you can leverage the power of Linkedin to grow your business, branding and network.
Since its beginning, LinkedIn has been preferred by the senior business professionals across all the industries, and this factor has made the platform a strong marketing field.
An ad on Linkedin is estimated to reach 12% of the worlds population, and therefore 30 million companies at the platform report that 97% of their b2b leads are from social media are from Linkedin alone.
With millions of professionals at one place, using linkedin for marketing and brand-awareness campaigns have been time-tested to generate leads by leaps and bounds;
but the need is to fabricate an effective and linkedin-specific strategy to get the desired results.
This playbook delineates how to use linkedin for marketing.
Before moving to Linkedin Marketing Strategy for your 2020 business marketing plan, let's get to know about this plenty potential platform.
What is Linkedin Marketing & Why does your business needs it in 2020
Linkedin Marketing is leveraging the professional networking platform for advertising a brand's products or services, and effectively engaging the prospects for lead generations, better conversions and an overall brand-awareness creation.
With 700 Million active users in 2020, Linkedin has emerged to be a top social-media platform and second most used platform for B2B marketers.
The following strategic steps, answer to the general question- "How to market on Linkedin?"
20 Linkedin Marketing Strategies for B2B Businesses in 2020:
The effectiveness of any campaign depends on the strategy deployed and similarly the best way to market on Linkedin is the deliberated approach with these following steps:
1. Company profile Optimization

2. Audience Targeting on Linkedin

3. Apply Social Media Strategies on Linkedin

4. Promote your Business on Linkedin

5. Write Posts on Linkedin

6. Join Groups & Participate in them

7. Show Thought Leadership on Linkedin

8. Share useful Business Strategies on Linkedin

9. Business Marketing on Linkedin

10. Product Marketing on Linkedin

11. Seek hidden data from you Profile Metrics

12. Content Marketing Strategy for Linkedin

13. Build Specific 'Landing Pages' for segmented brand outreach

14. Analytics for Linkedin

15. Linkedin Ads for Lead Generation

16. Hire best talent from Linkedin

17. Linkedin Marketing Best Practices
Determine the criteria for your target audience

Translate those criteria into a Sales Navigator search

Cold connect with target audience who match your criteria

Respond to messages manually after connecting

Post content that's native to LinkedIn

Optimize your profile for search

Write thoughtful comments on other's content

Avoid hard selling on linkedin
18. Tools to Use
19. Results from Linkedin Marketing
20. Evaluate the effectiveness of your LinkedIn marketing strategies


Let's discuss each of these 20 strategy elaborating on how to use Linkedin for business marketing:
#1 Company Profile Optimization
Company Profile at linkedin is a gateway for the leads to visit the actual website and therefore, to transform it into a lead generation page, it must be structured that it leads up to a conversion action.
Such structuring consists of three main steps:
Using an interest-creating catchy image: The header image gets the first attention and is a clear way of prospecting those interested in those services.
Clear and Compelling Description: Speak directly to the clients with a special attention to the first two lines because that's all what Linkedin displays. To read more, 'See More' requires to be clicked and for that, the reader must be captivated with the catchy content.
Updates with focus on conversion: Regular updates with engaging feeds about the blog posts, info-graphics, and other information, aimed at the targeted audience is also a great way to generate greater following leading to conversion.
#2 Audience targeting on Linkedin
4 out of 5 Linkedin users are the ones who make the business decisions, so targeted ads are the most effective tool to reach the quality audience in a professional context.
Linkedin audiences have two times more power to make purchase decisions than on other social media.
Linkedin offers a precise, powerful, and personalized targeting of prospects delivering the best in class results.
#3 Apply Social Media Strategies on Linkedin
Like other social media platforms, Linkedin can also be used in the same way to follow the brands, people, and other company pages. Interacting on the posts, commenting and sharing similarly leads to a better interaction and drives leads to your profile.
Engaging on posts published by industry leaders regularly will automatically put you in notice.
In Fact you can expect a good increase in new followers on a daily basis.
#4 Promote Your Business on Linkedin
This step confuses many marketers and is specially found asking us,
"What are business marketing strategies on Linkedin?"
Firstly,
Businesses need to take Linkedin seriously and interact professionally.
In addition to highlighting the business on profile, a separate page and a special group also requires to be created there.
Getting yourself added to other similar groups is also a great promotional step and letting others know about the business.
Smart writings, great visuals, and frequent updates keep your business getting greater leads.
#5 Writing Posts on Linkedin
Posting regular, valuable content creates trust with your connections and helps you to be seen as an expert on your topic.
Those who are seen as an expert in their area are generally found to get more business.
Connections are notified for each new post, and the network can share it to enhance the reach.
Strong chances are also there for your post to be featured in Linkedin Pulse, which can exponentially enhance your reach.
#6 Join Groups and Participate in them
Enabling free and direct communication, Linkedin groups allow you to gain influence quickly.
The groups are fantastic channels for rapid feedback and the discussion panel for complex-looking problem solving.
#7 Show Thought leadership on Linkedin
Posting updates about the achievements and re-sharing insights related to your brand or industry, and engaging the prospects with compelling and specialized content, establish you as an expert over the subject leading to greater following.
#8 Share useful business strategies on Linkedin
Linkedin is a network of professionals and entrepreneurs, entangled with their business strategies.
Creating thought-provoking content will not only gain appreciation but may also help someone struggling with some process.
Both of these conditions are highly beneficial for gaining popularity and establishing one as an authority over a topic.
#9 Business Marketing on Linkedin
Instead of hard-selling, pay attention to grow your network of highly targeted clients and connections.
Staying connected with them to make strong relations, and sternly following the aforementioned guidelines, use sponsored ad service to reach a greater audience.
Joining the groups and creating your own is a great way to create brand awareness on Linkedin.
#10 Product Marketing on Linkedin
Creating better connections and a strong network of prospects on Linkedin, the brand's page and group must be created and the analytics must be used to monitor how people are interacting with the page.
Using the mail-in account, mails can be automatically dropped to the persons showing interest and with sponsored ad campaigns, the product information can be expressed to prospects as linkedin guarantees that your ads and sponsored messages are shown to persons and groups showing interest in your or similar services.
#11 Seek Hidden data from your profile metrics
The data from profile metrics let you know who viewed your profile and in how many searches you appeared on a weekly basis.
These are an important number to watch over time as the more engaged you are on Linkedin the numbers rise in commensurate with.
Know the keywords critical for being found in a field and make sure your profile is replete with them – especially your headline.
#12 Content Marketing Strategy for Linkedin
Content marketing is about how you market your company, brand or personal views as a brand.
Linkedin is a great place to posts different kind of contents and the following five strategic steps, on what are some great Linkedin Content marketing strategies, will help you in the field:
i). Focus on the content uploaded by others:
Using Linkedin Sales Navigator one can closely identify and target the promising leads.
Focus on their content and interact with it by liking, sharing or commenting. This way you are participating in conversation and the notification to those IDs will let them know about you. This is where social selling starts.
ii). Create your own content:
Be a thought leader and create original content targeting your prospects or related to your brand.
Optimizing it with the trending keywords greatly increases your chances to rank ahead not only at Linkedin but also in Google Search Results.
One can also take help from other sources for the information, and can also contact agencies creating content on your behalf.
iii). Photographs with a business perspective:
Posting original pics is an effective content marketing strategy as it is your original content and people like to see real-pictures.
iv). Infographics:
A better and effective way to interpret a large and complex data in an interactive and easier style.
v). Strategically time your content sharing:
LinkedIn has peaks and troughs in terms of when people view content. Moreover, the users are also from various time zones so with the help of tools like Buffer, Hootsuite the content must be strategically timed to hit the particular group.
#13 Build Specific Landing-Pages for segmented brand outreach
For all the different products or services being offered by a single brand, an exclusive and dedicated landing page must be developed to create a distinct fan-base of its own.
Here's an example of how a b2b sales page should look like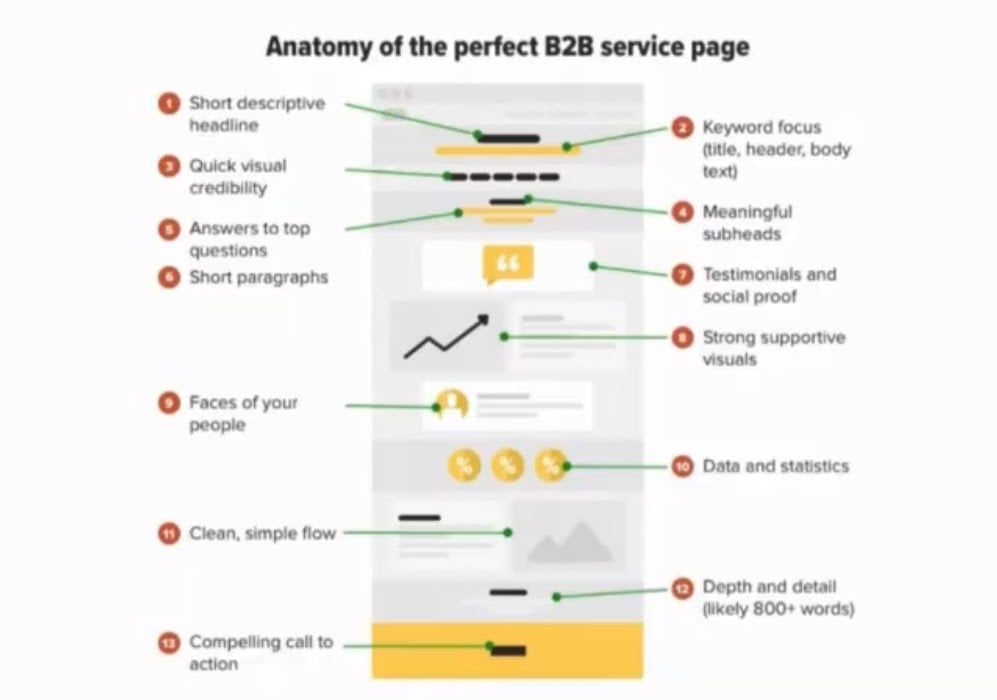 #14 Analytics for Linkedin
The analytics metrics & numbers are the evidence of the marketing efforts and allows one to improve the social-media ROI. 4 different analytics with different dashboard to comprehend the details are provided by Linkedin:
Analytics Dashboard

Activity Dashboard

Post Analytics

Profile Analytics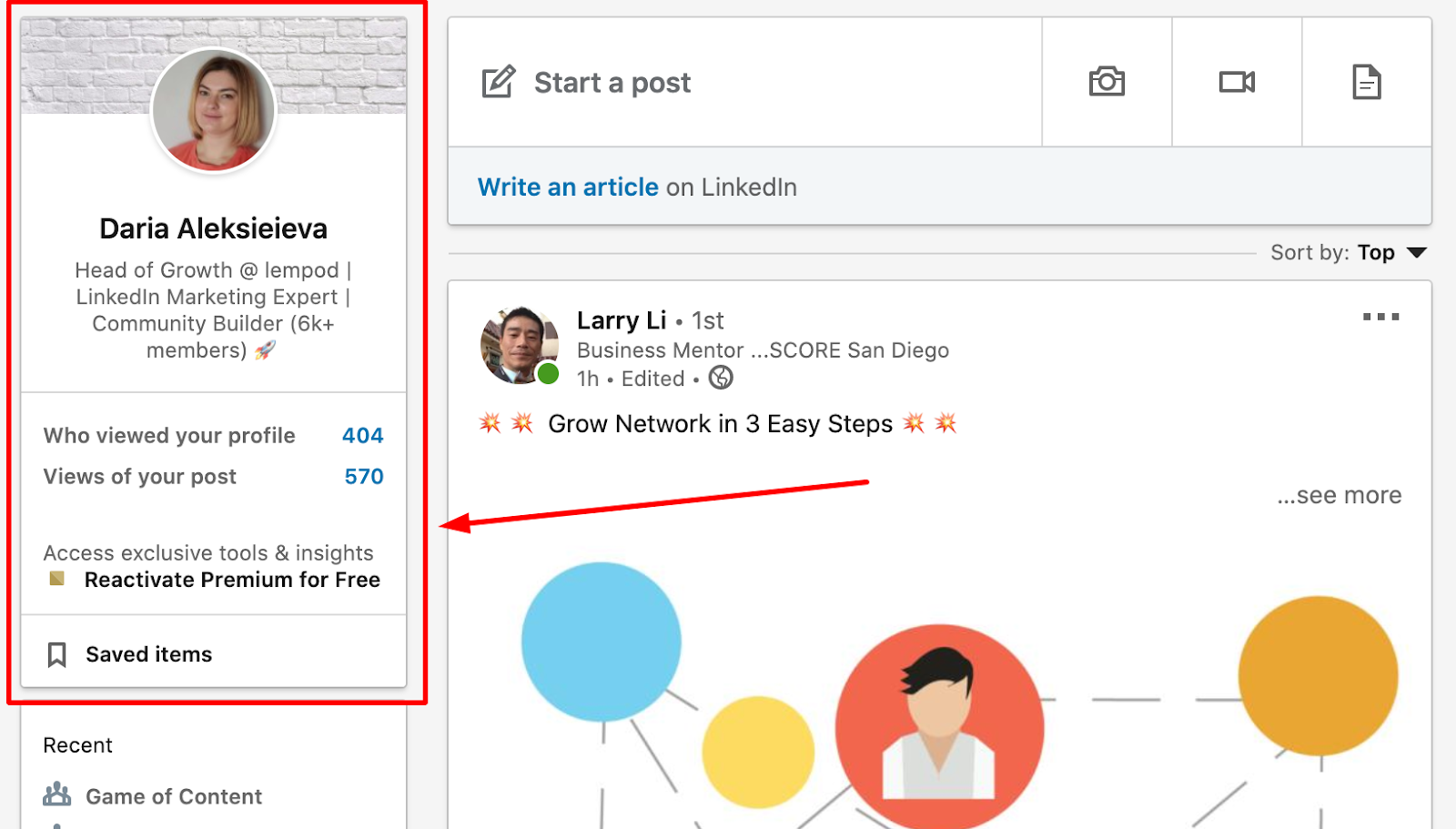 #15 Linkedin ads for lead generation



Using a huge amount of data, Linkedin creates highly targeted ads to only those people, pages and groups who have shown interest in your or similar service providers.
The special feature of Lead Generation Form, saves a lot of time and efforts and directs highly converting leads.
#16 Hire Best Talent through Linkedin

Using targeted job promotions- which surfaces job opportunity to the deserving candidate, candidate recommendations- providing personalized results, and a simple but effective dashboard for monitoring and managing candidate applications at one place;
Linkedin is an efficient & rich platform for hiring the best talents.
#17 Linkedin Marketing Best Practices

A common query of entrepreneurs and the digital marketers- "What are some of the best practices to be followed for successful linkedin marketing?"- can be answered with following 8 tips:
Determine the criteria for your targeted audience

Translate those criteria into a Sales Navigator search

Cold connect with target audience who match your criteria

Manually respond to messages are connecting

Post content that is native to Linkedin

Optimize your profile for search

Write thoughtful comment on other content

Avoid Hard Selling on Linkedin
#18 Tools to Use
Apart from the Sales Navigator, the following tools will be of great help in marketing on Linkedin:
Linkedin Plugins:

Special plugins help in adding the Linkedin functionalities like share, follow, member profile, auto fill and several others, to your website.


Linkedin Small Business: With this special tool for social-selling and lead generations, the small businesses will find themselves on track to boost sales, build trust, and reach a variety of related goals.



Crystal:

Crystal can review a LinkedIn profile or premium account and provide feedback and insight into a person's personality and the advice to connect with them.


Leadfuze: It allows you to quickly create a list of leads and target accounts through a simple search and helps in automatically sending personalized emails and follow up.


Salestool.io: Downloading the leads details to excel, automated mails, personalized marketing plans, tracking the activities with an efficient dashboard to push leads through sales funnel are some important aspects of this tool.
Apart from these 5 universal tools, hundreds of martech tools are now available, and each have its own set of pros & cons. Based on the business needs and personal working style, the best suiting one must be used.
#19 Results from Linkedin Marketing
Linkedin has been proven to offer 277% better conversion rate than from facebook and twitter combined.
Linkedin offers the maximum surge in all marketing parameters, and is the first choice for businesses for their marketing strategy.
#20 Evaluate the effectiveness of your Linkedin Marketing Strategy
With several metrics available easily, and various tools to track the 'special numbers' these 4 metrics must be specially pondered.
i). Impressions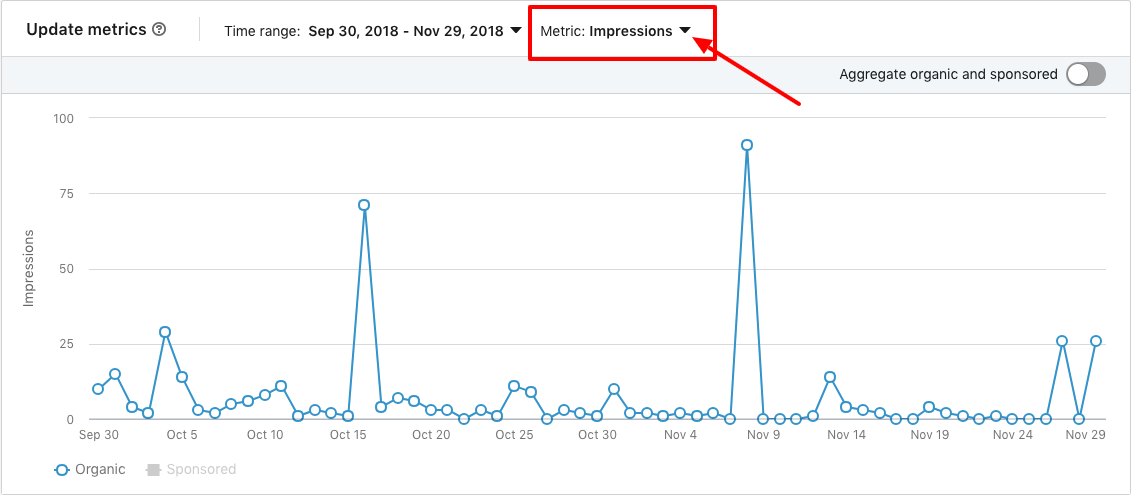 Measure the reach of your marketing campaigns.
ii). Click Through Rate and Engagement Rate
These two rates help you know about the performance.
iii). Follower Demographics
These stats will let you know where your posts are reaching.
iv). Followers:
The probability of targeted audiences going through posts greatly increases if they are following the profiles. Therefore it is important to know and must be actively tried to enhance your followers.
Conclusion
Linkedin offers a different world of opportunities for both B2C and B2B marketing and is an undisputed leader in getting you better converting leads.
A proper understanding and an effective strategy is must to harness the fathomless potential associated, in whose absence it is nothing more than another time-wasting social site.
All the aspects for creating top linkedin marketing strategies for 2020 have been limited here.
Make some research for profile optimization and the tools best suiting your business needs.
Integrate your Linkedin Profile with Free Hubspot CRM application for myriads of benefits and apply these strategic advice to gain the most.
Want to crack the Linkedin mastery?
Get a free session with our Social media lead generation experts.