PinkPowerCo's Founder & CEO, Nishtha Maheshwari Ventured into the Space of Marketing Automation with Visible Growth: GoodFirms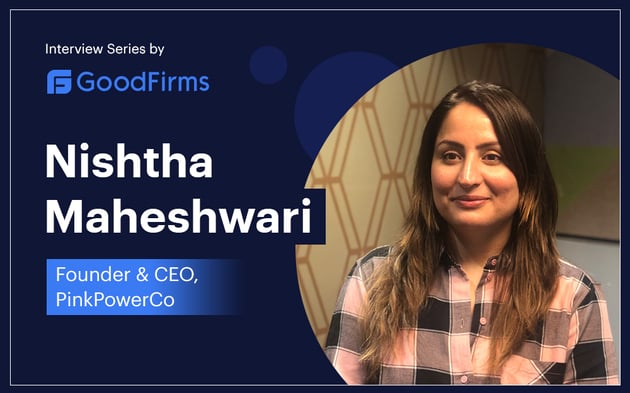 Incorporated in 2020 and based in GURGAON, Haryana, PinkPowerCo is a digital marketing and technology agency that sets up clients' sales and marketing technology stack, inbound & marketing automation and analytics, running lead generation, and nurturing campaigns that drive constant growth. The professionals use the power of machine learning and AI tools to build an ecosystem where clients understand their customers like never before.
PinkPowerCo's goal has always been to help people reach their goals and solve problems for people. The goal which the team plausibly achieved through their relentless drive help clients succeed and solve their problems.
It is a full-service marketing and technology agency focused on being a great companion for businesses, professionals, and organizations across the B2B market.
The professionals build a customer journey map that helps them understand their customer and their needs. For example - what they want to be read, what information they are looking for at a sign-up stage. Once clients understand their users, they can create unique value propositions, product messaging, sales copy, and email campaigns that connect with their souls.
The expert marketer's team builds a visual growth story for clients' companies that is more cost-effective and gets valuable over time and is an investment that brings a lifetime of gains.
The GoodFirms team interviewed Nishtha Maheshwari, the founder and the CEO of PinkPowerCo. During the interview, Nishtha unveiled the insights of the company and its flourishing services and the idea that inspired it to commence the business.
Starting with the interview, Nishtha shares the story behind the company's inception. She asserts that working in the industry for thirteen years before, Nishtha realized that digital marketing alone was not getting the businesses' ROI. That's how she ventured into the space of marketing automation, and when the team combined the digital marketing strategies with marketing automation, the ROI increased exponentially with visible growth.
Nishtha started PinkPowerCo in 2020 with a mission to take all her previous knowledge, experience, and skills to create a digital marketing company to help businesses using digital marketing services and marketing automation systems.
Talking about the company's business model, Nishtha mentions that PinkPowerCo has an in-house team of 10 digital marketing experts that manage b2b & b2c digital marketing campaigns for the clients.
Continuing further, Nishtha says that inbound marketing is about building a repeatable system that increases upon itself over time. The experts' team creates leads through inbound marketing that doesn't happen overnight, but the long-term benefits are undeniable.
As a digital marketing agency, PinkPower has a digital marketing professional and in-house SEO experts or SEO developers. The group is well versed with the most advanced Google algorithm, search engine algorithms, search ranking factors, Google penalties, Google recovery, and other internet terminology.
The expert marketing professionals help you understand the advanced services they have. The clients' only need to know for now is the benefits they get from the proper utilization of the online marketing consultancy.
Moreover, the experts are known for designing business-driven strategies for assured results. PinkPower holds a team of highly talented SEO experts who aim at delivering the best search engine rankings to their clients.
The team helps the clients to generate qualified leads for their websites by conducting in-depth research of their business activities and their website to provide them with fruitful results. They also help clients to achieve the maximum out of their available resources. The experts implement strategic on-page and off-page SEO planning that is effective under such conditions.
Nishtha divulges that most businesses struggle to get proven sales and ROI with digital marketing activities; that's why the team created a process that sets up a continuous flow of lead generation with omnichannel marketing campaigns and leads nurturing with marketing automation systems so they can track, measure and grow their monthly profits and ROI, unlike their competitors who only focus on SEO or Google Ads or Social Media.
Thus, having such expert marketers, PinkPower would soon endow PinkPower as one of India's top digital marketing agencies at GoodFirms.
The review obtained at GoodFirms reflects the potential of digital marketers at PinkPowerCo.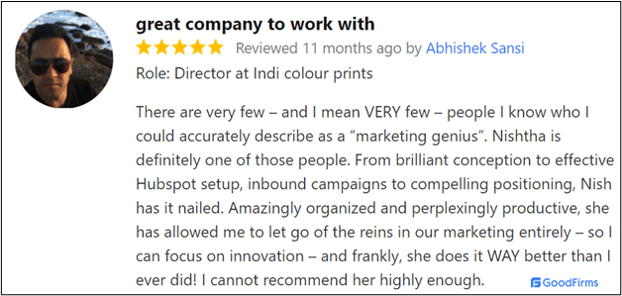 At PinkPower, the experts cater to clients from IT, Manufacturing, and Health & Fitness. PinkPower's business model is a monthly retainer model & almost 85% of the clients renew their contracts.
Further continuing with the interview, Nishtha also mentions that PinkPower offers customized digital marketing services to fulfill the clients' specific needs. With the help of advanced digital services and suitable digital methods, the team helps clients' websites attain more traffic and high rankings for their keywords.
At PinkPower, the experts assist the clients to invite traffic from different social media platforms under the social media optimization services. PinkPower offers top-class digital marketing solutions and search engine optimization services to improve clients' website's rank in search. They use innovative and unique strategies to keep them in front of their rivals in creating leads and deals.
Thus, creating custom and similar audiences in social platforms will target clients' ideal customers for both lead generation and lead nurture. With such expertise and capabilities, the GoodFirms' researchers believe that PinkPower would soon lead amongst the top digital marketing service providers at GoodFirms.
The review obtained at GoodFirms confirms the quality of service offerings rendered at PinkPowerCo.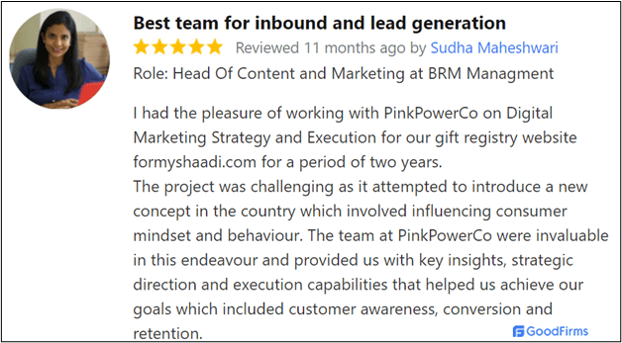 In conclusion, Nishtha mentions that PinkPower has a small customer success team who get in touch with clients in case of any issues, change requests, help in finding a partner, and business advice.
Moreover, she also believes that specializing in digital sales and marketing for enterprise businesses in India with a 25 people team of highly experienced digital marketers and an online positioning of thought leaders in the digital industry, PinkPower will soon grab a secure position in the market amongst the leading brands.
Having read the excerpt from Nishtha's interview, one can also go through the detailed discussion at GoodFirms.
About GoodFirms
Washington, D.C.-based GoodFirms is an innovative B2B Research and Reviews Company that extensively comb the market to find digital marketing services agencies amongst many other technology firms that offer the best services to their customers. GoodFirms' extensive research process ranks the companies, boosts their online reputation, and helps service seekers pick the right technology partner that meets their business needs.
About the Author
Anna Stark is a staff writer with GoodFirms – a Washington D.C.-based B2B Research Company that bridges the gap between service seekers and service providers. Anna's current role includes gauging companies' performances and their key attributes and putting them into words. She firmly believes in the magic of words. She is always looking for new strategies and ideas that companies have gladly embraced and exclusively shines a light on those to make their identities 9shine brighter on GoodFirms and the World Wide Web.