Marketing automation is a strategy that helps businesses see improved ROI, understand customers and nurture them for faster sales & retain them for longer duration.
Marketing automation does not mean automating marketing tasks.
Marketing Automation helps you achieve:
360 degree view of your customer

Solid digital foundation with a Marketing & Sales Stack

Attract high value customer at low costs

Make every customer experience personal

Reduce Ad spends & Increase ROI's
Why is everyone vouching for Marketing Automation these days & how will it actually make your life easy instead of burdening you with more tools - The big 4 reasons
Marketers are quickly upgrading their skills to understand the fundamentals of marketing automation and how to make it work with sales.
This sales and marketing alignment has been seen as one of the biggest growth factors in businesses in the last 5 years.
Thus, Marketers today seek answers to below questions with marketing automation:
Who are my most profitable users? How to get more of such users?

Where are users dropping out of the funnel?

Is the sales team doing a lot of repetitive, time-consuming tasks and its taking longer to close deals

My pipeline is full but why are no conversions happening.

Are we generating enough quality leads for sales?

Do leads sometimes fall through the cracks when they're handed off from marketing to sales?

Do we have a comprehensive method for measuring our successes?

Could we use more data and insights about our customers, as well as the general consumer?
But if you're the CEO or the owner, you can use marketing automation and inbound strategy to get answers to questions that directly impact the growth of the business:
How much faster are we growing now versus last quarter? Last year?

How much profit are we making this quarter versus last quarter?

How much revenue and profit do you forecast for the next quarter?
By speaking the same quantitative language as the CEOs and CFOs, marketers will better communicate marketing's value and impact to the executive suite.
If the above reasons aren't enough to show you the value, then read on for the 4 big reasons for why you need marketing automation & why it's so important.
#1 Collect accurate data & understand your customer like never before
Collect accurate customer data in real time across web, mobile and other platforms. This data will be both analytical & behavioral.
#2 Identify Trends and create smaller customer segments for targeting
Watch how your key business metrics trend over time. See how your users grow from week to week or which sources they most come from or how frequently they buy. Identify all patterns that matters to your business to create customer segments.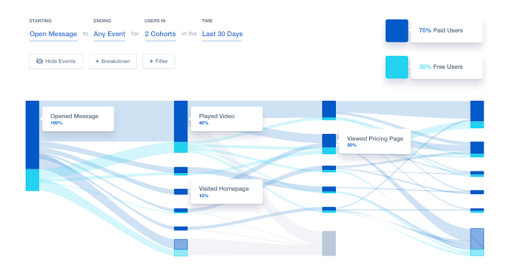 #3 Understand the why - Identifying the reasons for why people buy from your site or leave your site.


Know why your customers behave a certain way. Understand why they buy, retail or convert. Based on these decisions, you can plan your marketing strategies and investments in areas which gets the most profits.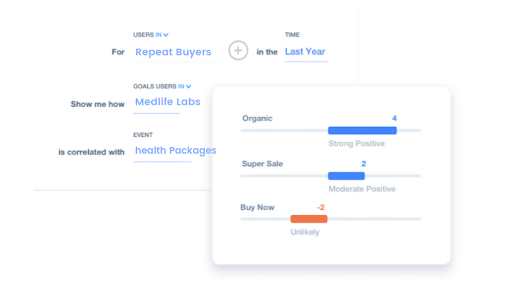 #4 Run hyper-targeted campaigns
Nurture and target your best customers which personalized messaging, relevant value propositions and highly-targeted ad campaigns, that aims at building a lasting relationship.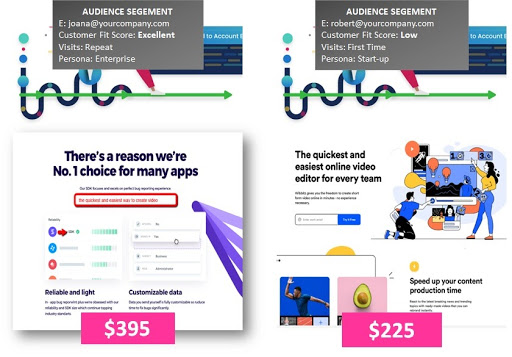 The ROI of Marketing Automation
Different companies achieve different levels of ROI from marketing automation because of different levels of maturity in their processes, systems, and skills – in other words, in how they use the software and where they are in their adoption.
Processes, systems and people skills are something your business needs to invest in to see the real ROI of this Technology setup.
Here are two steps to identify your marketing automation ROI
Step #1: Identify the cascade of goals
Identify your business goals and marketing objectives from all departments in your organization.
Consider the cascade of goals from the CEO's enterprise wide vantage to the campaign owner's budget objectives.
You begin to understand the nuances required to communicate marketing's business value. This logic can help you develop your reporting mechanisms for different recipients.

Step #2: Measure & track metrics

Businesses who invest in measuring and managing performance create more value, achieving 5% better returns on marketing investments and over 7% higher levels of growth performance.
Identify these metrics within your company:
# of visitors on your website

# of leads currently per month (from all your sources) MQL

# of leads sent to the sales team per month (SQL)

time taken to close the deal i.e. sales time spent selling

product quantities sold annually

annual revenue

product quantities sold to repeat customers (repeat business rate)

net close rate: # of inquiries that comes in / total units sold (annually)

What key metrics do you report on a weekly, monthly, and quarterly basis?

How do you measure campaign ROI?

What key performance indicators (KPIs) will you use to determine if your revenue processes are on track?

What defines a sales-ready lead? (please ask your sales team)
If you are looking to increase your net close rate substantially, then you should look in for investing in a marketing automation system.
Calculate Your ROI
Use this table to calculate your ROI as a whole and where marketing automation helps push the ROI increase.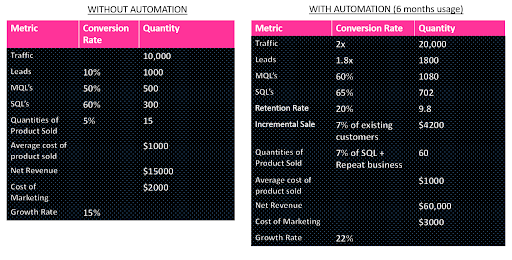 Not every program will have a complete ROI calculation. Some programs will have softer goals, such as the number of attendees at an event, but as always, the closer you can get to measuring profits and ROI, the better you will justify the investment.
Even the most straightforward ROI goals should include:
The number of incremental sales generated

The amount of revenue each transaction produces

The gross margin percentage

The total marketing and sales investment
Elements of a successful Marketing Automation Strategy - Ways to Maximize it to its full Potential
There are three levers that drive a successful automation strategy
Good customer understanding & outreaching them timely



Outreach customers through Omni-channel strategy




Building a human-centered brand, setting automated triggers, optimizing click-thru rates and advanced algorithms
Hence, making right investments in skilled people & right technology will expand the company's reach.
The most important thing to note here is Marketing Automation not just gets your proven ROI, but sets your whole company on a path of understanding your customer and working for your customer.
With marketing automation we create customer journeys that identify their touch points, actions and challenges, and the solutions which you can provide them at every stage.
In the end, here's a view of a customer journey and how marketing automation works to capture, nurture, convert and retain it all.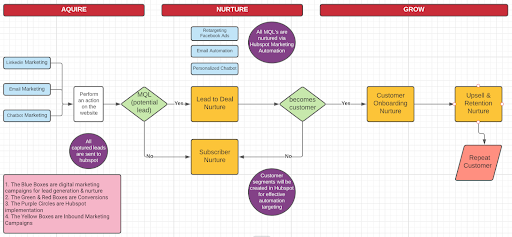 Learn more about:
Inbound Marketing
B2b lead generation
Martech Setup
Customer Journey creation