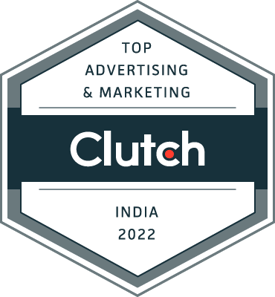 At PinkPowerCo, we specialize in e-commerce lead generation through organic social media, advertising, and automation. We are a social media growth agency for luxury retail and designer clothing & jewelry brands. We work directly with marketing managers to optimize social content and automation to achieve quality lead generation and ROI.
It has recently come to our attention that PinkPowerCo was evaluated by Clutch and recognized us as a leading marketing company in the social media marketing space. For context, Clutch is a B2B ratings and reviews firm based in Washington, DC. Their independent analysts conduct interviews with the former clients of companies listed on their site. These verified reviews form the basis of their rankings and awards.
Clutch highlights the top B2B companies in India across different industries each year. The leading Indian business service providers deliver high-quality customer service and have accumulated profound understanding in their fields of expertise.
"We've been able to increase our revenues by six times with the leads that came through Clutch." – Nishtha Maheshwari, Owner, PinkPowerCo
Words could not express how thankful we are to our clients. Without them, we couldn't have won this award, and we are especially grateful to those who took the time to leave us a review on our Clutch profile. Here's what they had to say about working with us:
"In terms of the strategy and positioning we wanted to create for ourselves, the insights that Nishtha brings to the table are pretty impressive. The work I've seen from other agencies is pretty vanilla. Everyone copies the same template." – Vishal Gupta, Founder & CEO, Little Leap
Let us partner, with you to take over your social media channels to optimize your growth so that you can focus on strategic decisions for your company. So send us a message today!