The exponential growth in various marketing channels has now made it more difficult for marketers to precisely target the right prospect with the accurate message at the correct time.
There is a huge need for technology that can track your customer activities, behavior and convert them into data that you can read and make the right business decisions. This guide explains the right ways to see ROI from your digital marketing campaigns using effective Martech Tools.
Table of Contents
| | |
| --- | --- |
| S.No | Sections |
| 1. | What is Digital Marketing Automation |
| 2. | Benefits of running digital marketing campaigns with great software aka Martech- Lead Capture, Lead Nurture, Lead Conversion, and Lead Retention. |
| 3. | What tools does your Martech Strategy need to achieve sales and marketing automation? |
| 4. | Metrics you can track- A closed-loop reporting for better growth decision making |
| 5. | Key takeaways for CMOS/Marketers |
What is digital marketing automation?
Combining your digital marketing with marketing automation is the Holy Grail we all need now.
Digital marketing is the best source of lead generation through online platforms, but what happens after the leads comes in.
They are left at the mercy of salespeople to convert them.
This right here is the biggest reason why your digital marketing ROI's are not justified
As a business owner, you need a system in place where you can track all marketing and sales activities in a single system.
Welcome - Martech.
We use the power of machine learning and AI tools to build a Martech ecosystem where you understand your customers like never before. This Martech ecosystem captures customer journeys and creates soulful personalized campaigns across a funnel that immediately connects with your audience segments.
For example, if you know what information your customer needs to sign-up or call you, you can create amazing value propositions, product messaging, sales copy, and email campaigns that excite them to reach out to you to discuss a business opportunity. This process is called funnel nurture.
The same can be applied at a stage where your customer is 30 days into the trial or a negotiation stage and is thinking about buying, you send out highly targeted messaging, giving them information that builds trust and maturity (such as a relevant case study or a work guarantee) in turn making it easy for them to convert.
With a combination of MarTech stack, Audience Segments, Personalized messaging, Digital Marketing Campaigns, and Analytics, you can start seeing a visual growth story of your company and outperform your competitor in no time.
And here's the best part - everything can be set up & running on autopilot and your company grows automatically. Your customer data gets valuable over time and is an investment that brings lifetime gains.
Benefits of running digital marketing campaigns with great software aka Martech
Retarget your audience within your sales funnel to close, nurture and retain your best customers, in turn, building a system of continuous growth with Martech.
That above is the biggest advantage.
The next big advantage is tracking ROI of not just your ads or social media or organic traffic but also the blog that you wrote or the ebook that you promoted. The results that you get to see with a closed loop reporting system shows the actual true picture of how your digital marketing is performing.
Make sure you do combine Martech setup with an inbound marketing strategy to have the right messaging being sent out to the right customer audiences.
Inbound marketing is about building a repeatable system that compounds upon itself over time. Building a lead generation machine through inbound marketing is similar to training for a marathon. It doesn't happen overnight, but the long term benefits are undeniable.
If you do not hear yourself say this – "Our Landing Pages have an average 55% conversion rate, while our visitor to contact rate is amazing – 13% of all visitors to the website have either signed up for a trial or given us their information. Our closed deals have increased; we have a 5% conversion rate from contact to paying customer" - Then you know you're not growing.
If you want to grow, you need to stop talking about how great your product is and to start thinking about a customer's problems. It takes time to think about blog post topics, content offers for landing pages, and to write emails.
But once you are there, inbound marketing opens up an amazing opportunity for your company to find success.
What tools does your Martech Strategy need to achieve sales and marketing automation?




It depends on business to business, but ideally one needs a set of 3 - 4 martech tools to build an infrastructure, where the customer journey, nurturing the journey via inbound, and retaining them with analytics, can be tracked.
Consider these two types of solutions which you can choose for your business. These two situations generally fit all business types.
Solution 1:
This includes 4 tools :-
Customer data platform - Segment
Marketing Automation System - Autopilot
CRM - Salesforce, Pipedrive
Analytics - Google analytics, Mixpanel
This solution includes a customer data platform which tracks your customer events and actions and passes it on to your marketing automation system, that then nurtures it via inbound and converts to sales qualified and passes it on to the CRM for the sales team to finally close.
All these activities, actions and results are then saved into the analytics dashboards for the business owner to review.
There are lead generation tools and digital marketing tools that are very specific to each industry so we cannot generalize them here.
But if you have the above 4 tools seamlessly integrated, then no matter whatever tools you use, your marketing campaigns will show you the results you've always wanted to see and your metrics will show you information that you had no idea about.
It's an extremely powerful setup and works for most of the businesses.
Its monthly costs will be around $1000 - $1500 depending on your users and MOU's
Solution 2:
This is the simplest solution for any business to apply and the best part is, you don't need to learn to use multiple tools and keep track of their logins.
Even if you are a b2b or a b2c business, this solution takes all your pain away.
You only need 1 tool - HubSpot.
HubSpot offers CMS for website development, landing pages and blogs, the best marketing automation system for inbound marketing and account based marketing, super simple CRM for sales team to adapt and effective analytics dashboard that tracks all metrics that matter.
Its monthly costs for about 5 users is between $800 - $4500.
To learn more about the tools, read here Best martech tools
Metrics you can track - A CLOSED-LOOP REPORTING
These matrices help you in getting a clear picture of marketing and sales performance and help in improving your HubSpot reporting.
Talking about closed-loop reporting, it means aligning your marketing team data with sales team data. So when the sales team updates on the status of their leads, the marketing team should accordingly work on the strategy of their lead source. This process helps in generating high-quality leads that delivers high ROI. It is an effortless process that allows you to make actionable plans.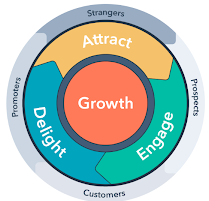 Source: HubSpot Flywheel
HubSpot flywheel centralizes all your Marketing, sales and Support hubs in one place.
Marketing Hub allows you to do the content management system for your website, blog, workflows and automation, email, social management, landing pages, lead forms, chatbots, and funnel tracking.


Sales Hub include automated sequences, activity logging, email templates, and pipeline tracking.


Support Hub helps you manage relationships, gives a better CX, lets you create support knowledge hubs, gain customer feedback, and increase retention.
Custom Reports
This allows you to fetch custom reports of specific metrics. For example, number of meetings, website traffic growth, content conversions, and the length of the sales cycle. It also tells you how your content is performing in different regions.
Build Automated Dashboards
The dashboard will allow you to visualize your data, analyze your business objectives, and build transparency between you and your managers or clients.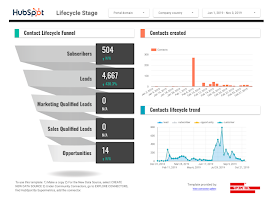 Source: Hubspot Marketing Performance Template by Supermetrics
Benefits of HubSpot Closed-loop reporting
Make more informed decisions with access to meaningful data. The insights will help you better understand your prospect.




Analyze your progress and accordingly adjust your goals when necessary.




It helps in providing a high-level overview of your marketing activities and helps you prove your marketing success.




Allocate your budgets based on the channels that are bringing you high quality leads.
Key takeaways
Here are top 5 takeaways:
1. Combine digital marketing with marketing automation for maximizing your ROI.

2. Use omni-channel marketing strategies to target your customers on various channels.

3. Align your sales and marketing team to work together towards one company goal-monthly growth in profits.

4. Make sure you have a closed loop reporting in your tools.

5. Once you know your best customers. Only make your digital marketing campaigns run to get those types of customers only.
At PinkPowerCo, we help you build a continuous flow of leads, nurture & retain them through marketing & sales automation and measure results with powerful analytics.
PinkPowerCo is trusted and partnered with HubSpot. Contact Us for a customized approach for building your brand.
We will be glad to know your views on the topic. Please drop in your valuable feedback.