Inbound Marketing helps in building a system of continuous growth with funnel optimization, marketing automation, and content marketing

'Inbound' is a philosophy that an organization needs to foresee customer focused growth.
Inbound marketing required all members of your marketing & sales teams, your design, content, social messaging & even product development teams to be aligned to address the challenges your customers face.
Inbound marketing is about building a repeatable system that compounds upon itself over time.
Building a lead generation machine through inbound marketing is similar to training for a marathon,
It doesn't happen overnight, but the long term benefits are undeniable.
If you do not hear yourself say this –
"Our Landing Pages have an average 55% conversion rate, while our visitor to contact rate is amazing – 13% of all visitors to the website have either signed up for a trial or given us their information. Our closed deals have increased; we have a 5% conversion rate from contact to paying customer"
– Then you know you're not growing.
If you want to grow, you need to stop talking about how great your product is and to start thinking about a customer's problems.
It takes time to think about blog post topics, content offers for landing pages, and to write emails. But once you are there, inbound marketing opens up an amazing opportunity for your company to find success.
"It's no longer about pitching the Today Show. It's about creating content that will attract the Today Show."—David Meerman Scott,
Inbound marketing starts with an offer of something valuable and relevant for your audience which will be promoted through your different marketing channels.
Such campaigns are the concentrated efforts aligning all your marketing channels around a single goal. Then that offer develops the leads and moves them along your marketing funnel to make them your customer.
Let's go into the details and precisely ponder on this marketing form.
Table of Contents
What is inbound marketing and the impact it creates on your business.
The biggest business advantage of Inbound is it:
Aligns your sales and marketing team to work towards the same goal
The fundamental growth of a business is when the complete organization is working towards the same growth goal defined by data.
Inbound is your first medium to implement this structure.
The second big impact that inbound marketing has on your business is
Reaching your prospects with solutions and answers at the time they most need to convert.
By delivering the opportunities and the solutions to the problem which prospects are facing to have a positive impact on not only the audience but also on your business.
It is a business methodology that attracts the customer by creating the relevant content and the experience tailored to suit their needs.
To witness a phenomenal growth of the business, instead of just attracting potential clients, the main focus must be to help, support, and empower them, even after they become your customer.
This is the fate-deciding factor and keeping the marketing, sales, and services constantly focused on the current and future needs is of immense impact on business growth.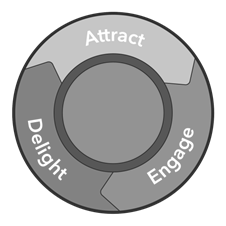 The inbound marketing philosophies can be easily comprehended by this flywheel and are monumental for a faster and better business growth
Engaging and delighting the customers builds trust for the brand.
Good for the customer means good for your business.
Impact on the business: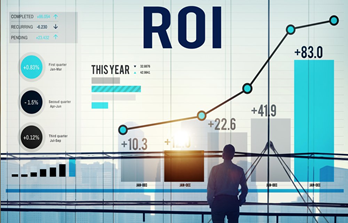 Here are more ways in which inbound marketing influences your business for better overall output:
1. It creates value and solves the problems
Traditional marketing worked more on push-approach through conventional channels that only promoted credentials and services. With inbound marketing you will be approaching your client by marketing an interesting, valuable, and exclusive content. This helps in building brand associations and a sense of trust about your abilities to meet their needs.
2. Right message at the right time
A well-calibrated targeting, segmentation and monitoring of potential audience will make a difference in how the communication established is received. Improving the campaign efficiency it betters the ROI and the access to the solutions in the needed times increases the chance of business with your brand.
3. Creates a meaningful database of prospects ready for nurturing
Inbound marketing plan is centered on the relevant content and this marketing methodology gradually develops a meaningful database that is required by the client. This, in turn, enhances the chances of future commercial collaborations but at least creates an impact on the mind that in future if they are looking for some 'literature' then the first name to come in mind is yours only.
4. Effective lead generation system that bring continuous growth
Segmentation enables the marketers to ascertain the cost, quality, and impact of the campaigns. Engagement with various campaigns and the personalized experience is proven to generate meaningful leads.
5. Build content assets
Developing strong and high-quality content is a perpetual investment in your business and the useful insights create a global presence, generating more leads. Better, fresh and relevant quality of content gets your business ahead in rankings organically.
All these benefits are advantageous in long term and the strategy deployed is highly cost-effective with a greater ROI.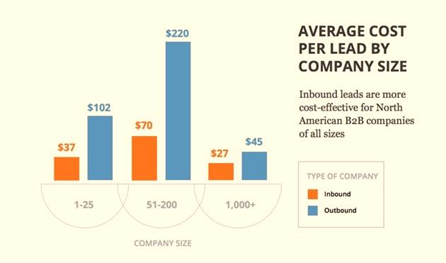 Inbound marketing strategy & inbound marketing plan for businesses
Being active on social media while blogging regularly and using the best SEO practices, and still out of tangibly productive results?
If this sounds familiar then the recent survey from DM news answers this common problem as
"In 46% of the cases, lack of effective strategy was the biggest obstacle in achieving the goals."
Inbound marketing is all about nurturing your leads through the sales funnel.
It's about making the sales and marketing funnels work together to push maximum leads to conversions.
Here's how an ideal sales and marketing funnel looks like: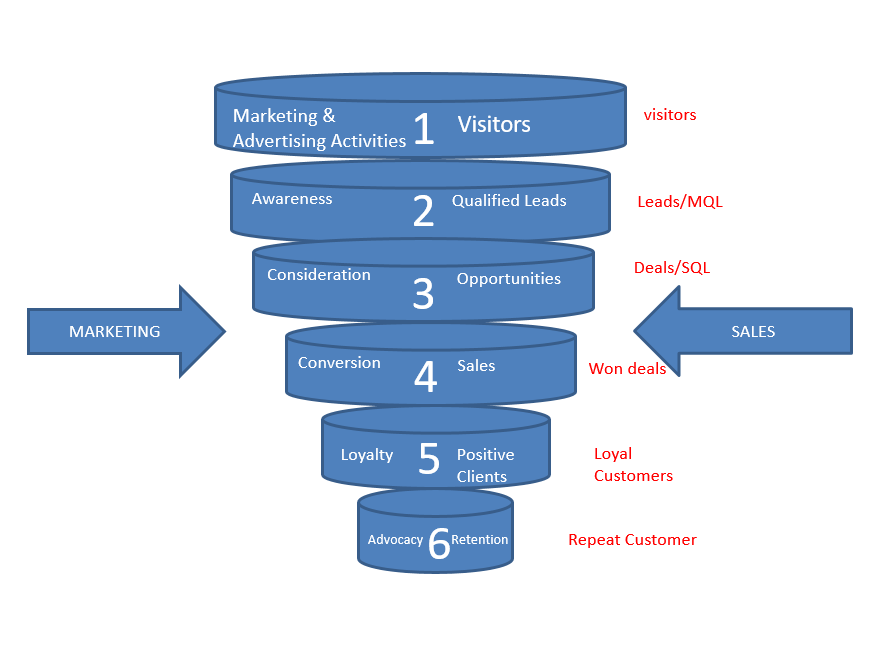 But this is the ideal stage.
Now here's how your actual sales funnel looks like: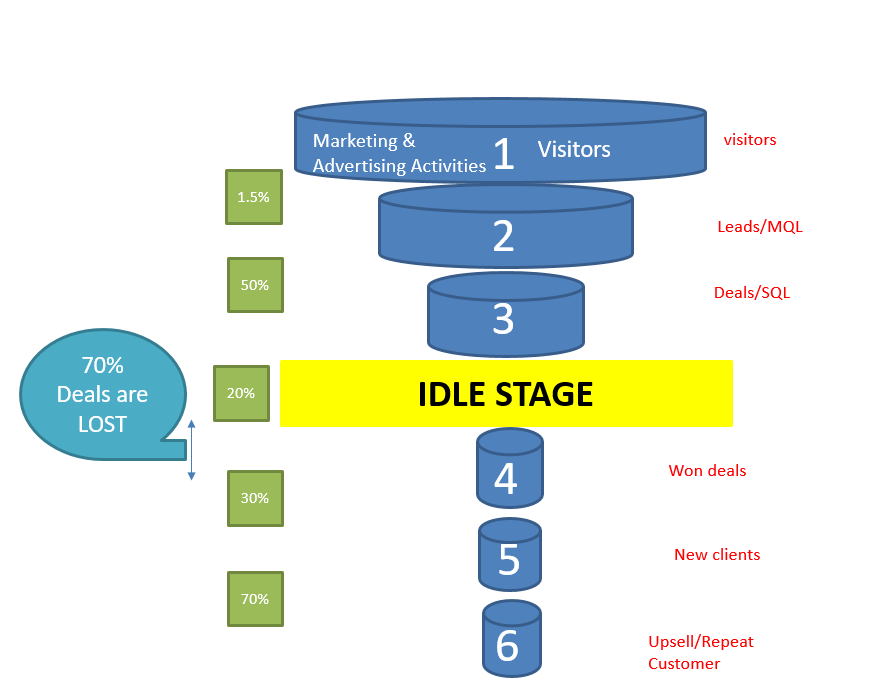 Can you relate?
You are in the above stage because you have put in all your leads to be nurtured by your sales people, which in this digital age is not ideal.
Marketing automation and inbound marketing activities are most important to keep your pipeline growing and moving.
To combat this challenge, PinkPowerCo has built an inbound strategy process for businesses to drive growth in these volatile times.
Here's what the strategy includes:
1. Business Audit
The world is a different place today, and every part of your digital strategy needs to adapt. We start by understanding your goals, challenges, your customer pain points and your current state of marketing to find the right fit strategy for growth.
2. Brand Messaging Strategy
With so much volatility in the market today, your messaging needs to change to talk to changing consumer behavior. With that in mind, we develop a complete messaging and positioning strategy that targets your best customer and answer their questions at various stages of their journey.
3. Growth Strategy
With the new messaging in place, we review your digital strategy (end-to-end) and identify what needs to be changed, what opportunities exist for growth, and how you can approach marketing and growth moving forward.
We then put together into a plan to action moving forward, and swiftly execute the roll out - adapting with the rapidly changing business environment.
Inbound Marketing Activities include the following:
Creating a Customer Journey
Customer journey is a 'story' about understanding your users demographically, their behavior, their content liking's, their actions and their touch points for conversions. Compact visualization of end-to-end customer behavior in an easy pictorial form is known as customer journey map
Read this post if you want to learn how to create the best customer journey for your business
Marketing Automation & Funnel Optimization
This is the core to inbound marketing. Marketing automation helps in nurturing your current prospect and building a relationship with the company along with the sales executive. Based on the user activities, the marketing automation system can send out correct information on correct sources to push them through the sales funnel bringing up to 200% increase in MQL. By create customer journey nurture email workflows that pushes leads down the sales funnel, increase closure target by 50% with shorter sales cycle and better ROI
Content Marketing
The best content marketing strategy begins with Identifying your Best Customer - The people who buy fastest, spend the most, and return most often. Once you understand your customer, you can create hyper targeted content for this audience segment and reach them at the right stages of their customer journey's. Most high converting content types includes blogs, e books, video scripts, social media banners and email templates
Social Media Marketing
The first step in building your social media strategy is by identifying the best channels that will work for your lead generation and lead nurture, and then build your company profile on that social channel. You might just need Facebook and google and nothing else.
Search Engine Optimization
Getting your web pages and blogs to rank keywords and search queries is a part of a topic generation strategy that is built up for your best identified customer. A combination of understanding your competitor strategy, your customer search queries and the content strategy builds up an SEO system that works to build your company's trust in the market.
Inbound Marketing Tools
Generating qualified leads and converting them to customers require the aforementioned strategies but the real success demands better data management, analysis of ROI, and proper management of teams and projects.
Several efficient tools are now available to make the inbound marketing process effective. Here are our top 5 preferred tools that can be a great start to build your marketing stack and integrate your sales and success teams with it.
Hubspot Marketing Automation System

Salesforce Pardot

Autopilot

Click Funnels

Active Campaigns




Hubspot Marketing Automation system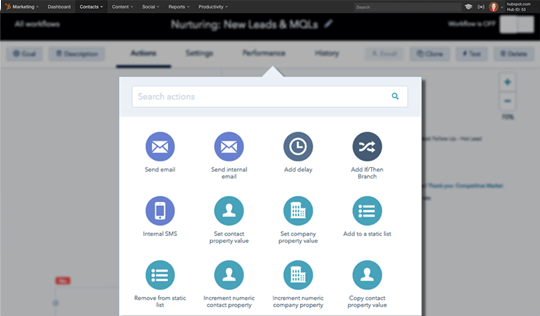 You can scale up your growth by spending less time on repetitive tasks, with easy & robust integrated workflows from Hubspot marketing automation system. It automates the lead generation with email drip campaigns and helps in automating several other tasks like managing bulk data, setting up webhooks, notifying the team for a note-worthy actions, automatically adding the task to Hubspot CRM, and many more.
Salesforce Pardot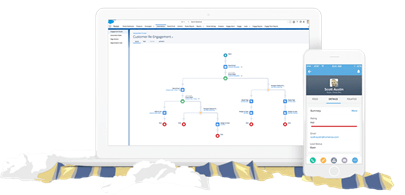 The best CRM application for business-to-business marketing automation, Pardot helps firms to create meaningful connections, generate more leads, and empowers the sales division to close more deals.
Autopilot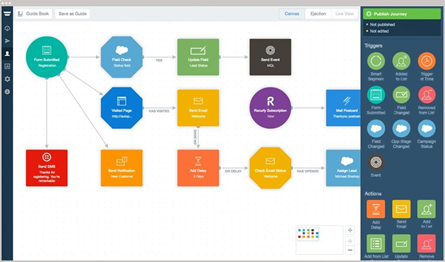 Autopilot is a visual marketing application, enabling users to create & manage marketing campaigns and leads conversions. Multi-channel marketing capabilities viz. e-mail, in-app, SMS, and snail-mail communications are offered with this.
Clickfunnels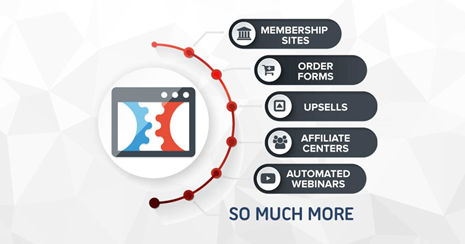 An effective solution to execute any type of online marketing campaign, ClickFunnels allows setting up of different funnels in a few minutes only. In addition to the tracking analytics, sales metrics, split tests, it also provides you with a page editor to make any kind of page you have dreamt of.
ActiveCampaign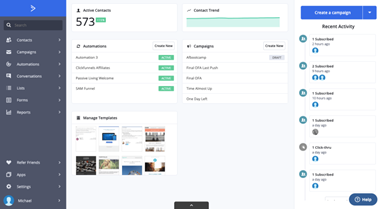 The best tool for growing businesses, Activecampaign, creates effective connections with the customers with the automated email, CRM, and messaging solutions.
Inbound with HubSpot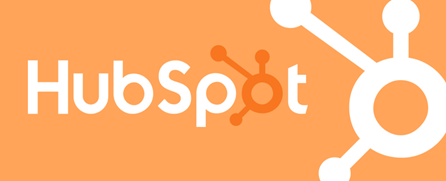 In 2006, HubSpot launched software to help organizations in executing their inbound marketing strategies and the year 2017 witnessed 30,000 companies in over 90 nations relying on HubSpot Growth Stack, helping them in building their sales pipeline and accelerates the revenue growth.
The HubSpot's growth platform includes:
Free HubSpot CRM

Content Management System

Marketing Hub

Sales Hub

Service Hub
Also the all-in-one inbound marketing software is aimed to solve the following business challenges:
Increase Website Traffic

Generate and Nurture Leads

Close & Manage Leads

Support, Retain & Grow Accounts



Interested in Hubspot? Click here to know how we can set it up for you.
Inbound Marketing Use Cases
By now you would understand that implementing Inbound Marketing alongside your digital marketing is a step towards building a continuous growth model.
Here are some user cases that you can take inspiration from:
1. Decrease your Cost Per Lead
To be able to execute new landing pages, blog posts and social banners quickly and effectively for multiple campaigns is the best thing you can do to enhance your digital marketing. With funnel optimization nurture campaigns that are tracked and measured for, the CPL automatically comes down.
2. Personalized Connections with prospects
You aren't iterating and learning as fast as you could have because it just takes too much time and effort to try new things. Inbound marketing is a solution that empower you to both test new ideas and deploy sophisticated and personalized email marketing programs
3. Align your marketing approach with the rest of the company
The problem is that your website and marketing approach is not aligned to attract the best prospects and clearly communicate your value proposition. Inbound marketing brings a holistic view that identifies your best customer and helps build the right brand messaging
Conclusion:
Inbound marketing's core strength lies in building valuable content assets aimed to attract and retain customers throughout their entire lifecycle, not just before they are a customer, but even after they become one, with a greater emphasis on personalization and relevance.
Inbound marketing focuses on the customer lifecycle and nurturing them to build trust with content that is hyper targeted and seeks to listen and respond to your buyers' needs with a more personalized experience.
Content marketing is the foundation of Inbound marketing
Various Inbound marketing strategies, includes: search engine optimization, social media, web site, paid strategies, and marketing automation
Inbound marketing can scale your business to the next level and the best time to do is now.
If you need help in building an effective inbound strategy or choosing the right tool for it, drop us an email at hello@pinkpowerco.com
Subscribe to the blog to receive some helpful information on a weekly basis.