This Martech guide is explains you everything you need to know about Marketing Technology, what is Martech, define Martech & build a Martech Plan for your business.
Transform your business with a Martech Plan & Martech Stack Optimization combined with digital marketing to achieve remarkable marketing and sales results.
You are about to begin a journey where you see marketing technology helping you take the right decisions to put your organization on the path to achieving growth. You need to know, however, that it's going to be one of the most challenging playbooks you will work through.
But if you stick with it and really commit to this process, you will not become one of those organizations that struggle with using SaaS tools and then ultimately give up.
The fact that you're reading this right now is already a good sign.
You understand that buyers have changed and that, as a result, you now need to change. You get the power of what AI & Machine Learning SaaS Tools can do for your organization.
That said, you're probably still struggling to figure out where to get started and how can my company fully go through a digital transformation.
You think to yourself too many times about how your -
"Organic and paid campaigns not performing well"
"Not able to nurture traffic coming from campaigns"
"All the top funnel content is not targeted"
This is what this playbook is all about -- arming you with the right tools, knowledge, and support you need to make a complete digital transformation in your company by setting up your Martech Stack, that builds for a long term and ongoing success.
Table of Content
What is Martech & how can it change your marketing forever
Martech is a short name for Marketing Technology.
Define Martech Stack Ecosystem: Marketing Technology is an ecosystem of sales and marketing tools connected seamlessly to track a customer throughout its journey via website, emails, offline visits, calls etc., and then syncing all data into a closed loop reporting to understand the effectiveness of your campaigns and optimize them for greater results.
By using this power of machine learning and AI SaaS tools, you build a Martech Ecosystem which helps you understand your customers like never before.
The first and foremost advantage of a Martech Stack is you really understand your customer behavior at various stages, capture their journeys and create soulful personalized campaigns across funnels that touch their heart.
For example, if you know what information your customer needs to sign-up for a free trial, you can create amazing value propositions, product messaging, sales copy and email campaigns that excites them to ask for a demo.
The same can be applied at a stage where your customer is 30 days into the trial and is thinking about buying, you send out highly targeted messaging, giving them information that builds trust and maturity, in turn making it easy for them to convert.
After building your martech stack and personalized campaign set-ups, you can start seeing a visual growth story of your company and outperform your competitor in no time.
And here's the best part - everything can be setup & running on autopilot and your company grows automatically. Your customer data gets valuable overtime and is an investment that brings lifetime gains.
A Martech Stack's goal is to bring your customer data together in one central location so that you can improve the decisions you make, increase customer experience and ultimately your customer retention. With all this data, running personalized organic campaigns to your customers makes for a successful growth story.
Which Martech Tools build your complete setup:
1. Marketing Automation Tool
2. Customer Relationship Management Tool (CRM)
3. Analytics Tool (Google Data Studio, Mixpanel, Amplitude)
A Martech Stack improves your decision making at every level of business operations.
Here are a few use cases:
1. Expand to offline stores: let's take the example of an e-commerce apparel company who is opening their first bricks and mortar store. It becomes increasingly important to understand all customer touchpoints, both online and offline. A martech stack enables a retail business owner, understand the omnichannel user experience and how online spend influences offline behavior.

2. Finding growth opportunities: We understand the challenges of finding new growth opportunities for businesses, while still keeping up the day-to-day demands of the business. Martech stack provides a scalable way to run experiments and measure results without stretching your team too thin. Your martech stack collects and delivers clean customer data to quickly run tests and evaluate results.


3. Create highly targeted, personalized advertising campaigns: When you run advertising campaigns on different channels, all your data is segmented on so many platforms, making smaller audiences and segments a complex and time consuming task. It means you default to the basic, generic audiences that these advertising platforms offer, which didn't convert. That's why a martech stack implementation strategy can automate the manual process to create highly targeted advertising audiences and decrease cost per conversion by at least 21%.
Let's go deep into examining why techstack's have become a "must-have" technology:
1. Customers are interacting with businesses across more channels than ever before, making this previously simple relationship much more complicated.


2. Businesses are expected to track all customer interactions, not just those associated with sales. Activity on your website and mobile apps, not to mention email, push notifications, support tickets, are only a fraction of what a business needs to track, store, and unify.


3. Now that the internet has fragmented the customer relationship across so many different channels, we require new tools that help support these complex and circuitous customer journeys


4. With the introduction of the GDPR, the CCPA, and other data privacy laws, protecting your customer data is crucial. Violations to any data privacy laws can lead to massive fines, a loss of consumer trust, and a sharp drop in stock value.

5. In the last five years alone, the cost of customer acquisition has increased by over 50%. As a result, businesses have switched their focus from "How do we acquire more customers?" to "How do you grow your lifetime value?"
If your business wants to increase customer retention, drive customer LTV, or understand which customers are ready to upgrade, you need a Martech Stack.
Get the most out of your Martech Stack Ecosystem for greater ROI
Now that we know what is martech and as we have define Martech above, we can now get to understanding how it can get you greater ROI's.
If your campaigns aren't generating the desired revenue for your company, it's not worth the price -- but the only way to measure the financial ROI of your marketing efforts is with the right technology.
Implementing the right technology is not a set of tactics -- it's making your sales and marketing teams work in synchronization towards a common business goal with a desire to solve the problems of your customers.
Before we begin implementing the Martech, a few things have to happen:
The sales and marketing should be open for a digital transformation


All teams need to understand the underlying vision of the company for growth



Teams should be willing to help the content writers to create great, quality-driven content and video that thoroughly addresses the most pressing questions of your buyers.
Another most important part of this implementation strategy is to understand that your content will make you the most money.
You must be thinking that I currently have so much content on my website and blog, but they don't get us any business?
This is because you cannot actually track what your content is doing for your business. Without a martech ecosystem, there is no way to identify how your content campaigns are performing.
For example, we've invested a lot of time and resources into our pillar content strategy. But without a tool like HubSpot, we would have never known that strategy generated more than $100,000 in revenue in a six-month period, in addition to helping us grow our organic traffic.
You see, the fact is, as businesses, we must make money.
And then we must turn a profit.
All this digital marketing stuff with SEO, Facebook is nice, but without it helping you to seriously generate more revenue for your company, it's not worth the price tag on the cover.
It is for this reason that, with digital sales and marketing, tools matter -- a lot.
With a Martechstack, you can maximize your investment in outbound, inbound, optimization activities and measure the correct ROI.
Analytics Tools like Hubspot Marketing Automation or Mixpanel or Pardot will show you the final picture i.e. a closed loop dashboard of metrics that define the success of all your campaigns - seo, content, ppc, social, email marketing, influencer, PR, outreach etc.
Here are some of the metrics that a Martech stack will track to help to take better decisions.
REACH
New Visitors

# of Clicks/source

ACTIVATION

# of Form Submissions

Calls

Meetings Booked

MQL's
ENGAGEMENT
Blog Subscribers

Content Downloaded

SQL's
RETENTION
Recurring Revenue

Upsells



GROWTH STATISTICS



Deal Size

Sales Cycle

Hourly Rate

CPA

Customer Lifetime Value
Some insights that your Martech stack will give you are:
Understand which accounts are engaged, and which are at risk of churn, so you have a better look into the health of your overall business.


Learn which features keep your accounts retained, and spot the accounts that are ripe for an on-site visit or re-engagement campaign.


See how new products or updates are adopted and what impact they make on user behavior so you know how to iterate and improve the experience. You can also measure how product usage correlates to account value, likeliness to upgrade, and more.


Know how and why customers retain so you can make updates to retain customers.


Identify at-risk users and re-engage them with custom messaging before it's too late.


Discover users that are ready for an upsell, and which ones who need additional messaging or a training session first



Building an ecosystem is the first step towards a long term investment of running digital marketing campaigns that work towards a single goal of increasing your ROI.
Build your base right - understand your customer, capture journeys and write personalized messaging
The single most important thing you can do to drive growth in your business is to map your customer journey.
When done right, it can change how you view your entire business.
Start by capturing customer journeys at every phase and create highly targeted personalized campaigns across your sales funnel, that touch your customer's heart.
Being aware of your customer's journey is essential.
For example: A user is trying to find why your product will suit them and what all will they get once they buy your product.
You can set up a personalized flow for such types of users.
Here's how it will look like:
Audience Segment: Second-time visitor, visited home, features & pricing pages, persona is a small-medium business, industry is ecommerce.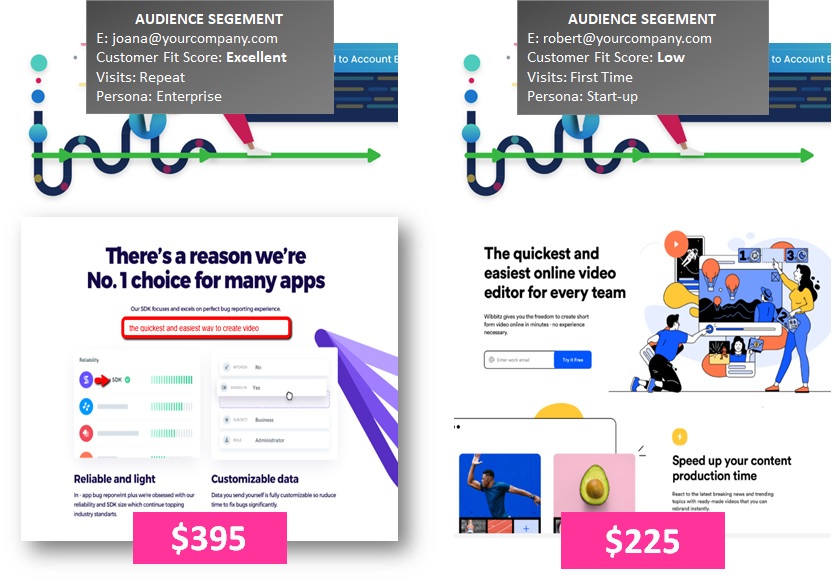 Chatbot Playbook: Send a pop-up message to that user which says:
Here's a solution for your ecommerce store - link to a landing page which is specific to the user's industry with all use cases, features, faq's and a pricing table.
With personalization to this level, you can win your customers trust even before an actual sales person gets in touch with your prospect.
This power of a customer journey can change the way you see your customers.
Some things customer journey mapping helps you achieve:
Understand your customer better by tracking their behavior, conversations and actual issues they face


Track user at the right touch points



Build highly targeted messaging for your users at these touch points
Customer journey starts from touch points and then eventually evolves into a purchase. No one buys a product just after seeing it the first time.
Customers only buy a product after viewing it several times, researching about it, reading reviews and comparing with competitors.
These behavior tracking is called 'touch point,'
Which essentially means, the steps taken by a customer to convert.
To understand your customer better, we use empathy maps
Visualizing your customer journey into a diagram to refer to it as a source in the future is known as an empathy map.
The best way to do it by imagining the way a customer is interacting with your business.
You can start on a simple spreadsheet and list down information under the following heads:
See it from their eyes

Identify Touch points - where do they interact

How do they feel - emotionally

How to improve - things you can do to improve their experience



After analyzing these points, you need to combine them to visualize the average experience of your customers with your product.
Here's an example empathy map for a typical b2b software development company: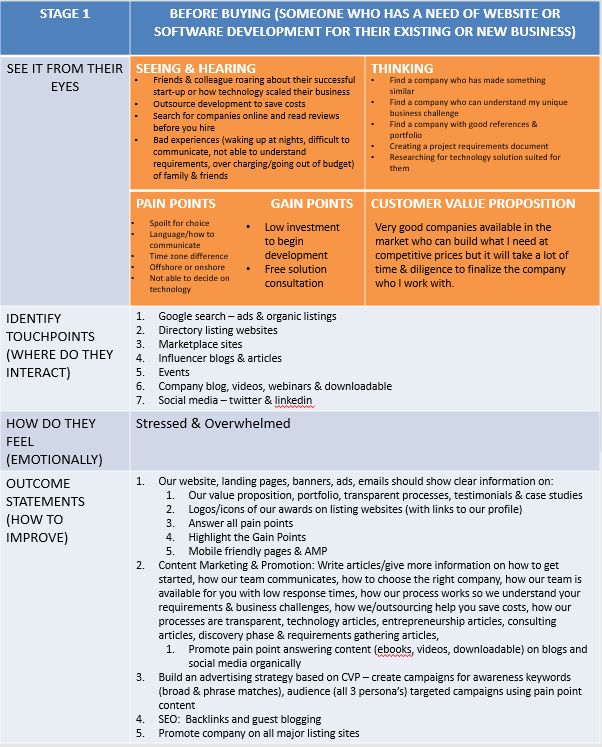 Such empathy maps needs to be created for three buying stages of the user:
Before Buying

At the time of Buying

After Buying
After you create empathy maps for each buying stage, you will come up with certain outcomes which you should implement to build your final customer journey.
You will need to score each outcome based on:
A (IMPORTANCE TO THE USER AT THAT STAGE)

B (HOW SATISFIED THE USER IS CURRENTLY WITH OUR EFFORTS ON THIS)

OPPORTUNITY SCORE ( (A-B) + A)


You then need to split your outcomes into phases based on their opportunity score.
Here is how it will look like: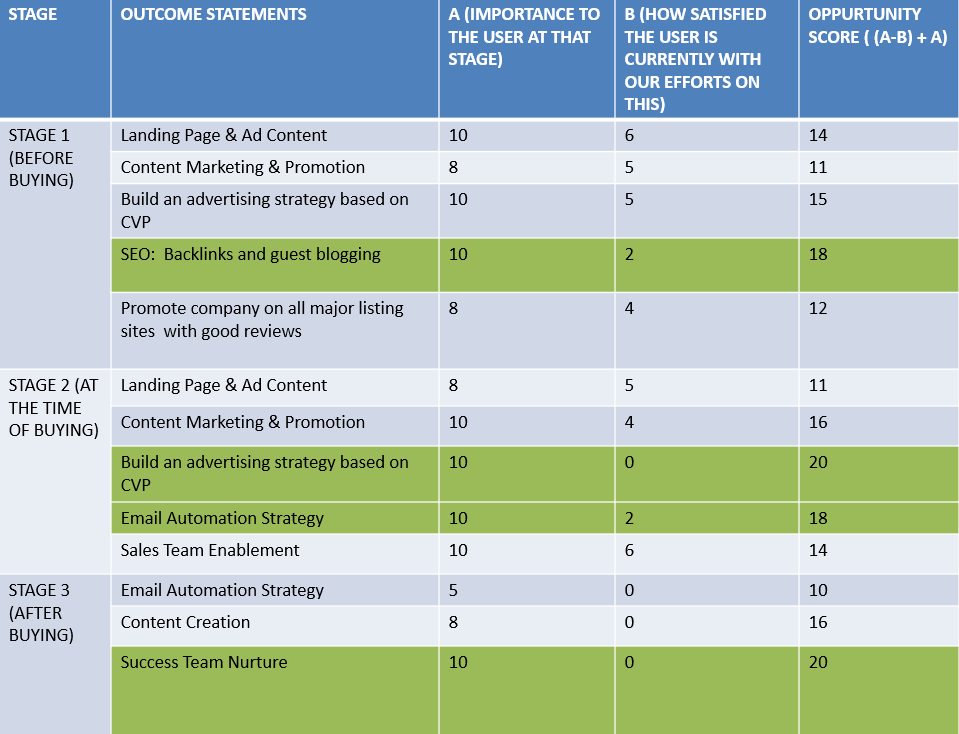 The green rows are the one with the most score and hence should be your very first focus.
In the above example you will see that by investing more time and money on things like:
SEO

Building an ad strategy only on CVP (Customer Value Proposition)

Email Automation Strategy and

After sales support (success team nurture)


Can get your base up to build your inbound growth strategy with specific messaging and to specific audiences.
Build the perfect inbound strategy
After your ecosystem of marketing tools is set up, you are in the best position to run inbound campaigns which can be tracked, optimized, monitored and analyzed to see how all your collective efforts are showing results.
Analyze the data and map your goals with services to finally build your inbound strategy.
Inbound strategy consists of 4 parts:
#1 Content
Content continues to drive leads, whereas other forms of marketing, like pay-per-click (PPC) advertising, will only do so for as long as you continue spending. It's for this reason we think of content as an asset that businesses own, whereas online advertising is rented. This distinction is important for SaaS marketers to consider.
#2 Digital
1. Funnel Optimization: We build customer journey's and match them with your sales funnel to build an error proof model for funnel movement by leveraging user data, funnel analysis, and an iterative design process to build beautiful, optimized experiences.

2. Marketing Automation: Once we've optimized to get you more leads, we take care of those new leads with email automation. We create workflows to convert prospects into sales automatically. And just because we made the sale doesn't mean the automation stops. We'll help you identify how to turn customers into ambassadors using the right customer nurture programs.
3. Audiences & Segmentation: Boost campaign performance by targeting specific user groups. Determine the exact users you'd like to target with a message or an experiment, based on behavioral data, like watching a video, or abandoning a cart, and demographic data, like age or location.


# 3 Reach
1. Remarketing: Turn your hard earned website visitors into customers. And most retargeting software now enables marketers to target people beyond website visits. For example, you can launch a campaign based on events -- such as opening an email or attending a webinar -- while some tools let marketers target people with similar characteristics that haven't visited your website yet.

2. Blog Promotion, Outreach & PR: Creating regular content and sending out that content via emails to your subscribers, outreach, influencer and PR. all content is created seo friendly and this content becomes your asset over the years.

3. Social Media: We use paid social media to target users within a funnel and send out specific information to them. Social media is also used to promote content and build a brand
#4 Analytics
Data is the backbone of good business strategy, and we want every part of your organization to be empowered by data. A data-driven approach means you'll have a stronger and more reliable understanding of your KPIs, customers, and revenue projections.
Align your company on Martech as a way for continuous growth
First, you need to empower your leadership, sales team, and others with the knowledge that will help understand why marketing technology is the first step towards growth.
People forget about all the technology that enables them to market. The stack is where it is at in marketing nowadays. A stack helps turn a marketer's ideas into amazing marketing execution.
To help you, we recommend the following steps:
1. Read this playbook and make your team read it too, so everyone can be on the same page.

2. Explain in plain, accessible language how and why buyer behavior has changed so drastically in the digital age, and what exactly companies need to be doing right now to drive sales and growth with inbound across any industry.

3. Share our growth plan with you team to understand what's included

4. Embrace an inbound culture of creating industry-leading content and video, making you the most trusted voice in your space.

5. Create your content calendar and stick to it. Produce two or three new pieces of content per week (videos, blogs, etc.) at the bare minimum. In that content, everyone will go out of their way to truly address the most common questions your buyers are asking about cost, problems, reviews, and comparisons, even if they would not have done so previously.


How PinkPowerCo setup your
Growth Program
There are two ways to get started:
1. Fast Track Growth Plan
One of the biggest issues we see with clients coming from other agencies is that they were put through a series of typical digital channels and immediately started working on generic activities to get some short-term movement. The problem is the agency started implementing solutions before they knew what the true issues were.
To avoid getting stuck in a long term contract, we have built a Fast Track Growth Plan for your business where we work together for 4 weeks to understand your business, build your Martech setup strategy and a 12 month growth marketing strategy plan. The Fast Track Growth Plan is designed to go deep in understanding what will suit your company in order to grow.
If you feel the plan will help you achieve your business goals, then we will begin work on implementing the strategies.
Who is this program for?
Business Owners who understand the way to growth is marketing technology and humans working together, but do not know how to begin
Low Investment: Small businesses looking for low investment to understand how much of an ecosystem will cost them monthly and its benefits


Inbound Strategy: A quick way to understand the inbound that will work for your business



Working with us: Large companies who can use this plan to work with us and see if we are a fit for them
Deliverables:
Full understanding of your audiences, sales and marketing process

Martech Implementation Strategy

12 - Month Growth Marketing Strategy
2. 10- week Growth Program
This program is for any type of business who is looking for a long term digital strategy that aligns with their business challenges and goals and helps them grow in the next 12 months.
Our Growth Program is aimed at building a one time set up of your Marketing technology to capture your customer behavior, analyze their behavior to build inbound strategies to nurture them through the funnel and optimize the campaigns on an ongoing basis.
Our clients who go for this program stick with us for a 12-month contract which includes outbound and inbound marketing activities for continuous growth.
Who is this program for?
Marketing Managers, Business Owners who are looking for answers:
Segmentation – Who are my most profitable users? What do I do with that info?

Conversion rates – Where are users dropping out of the funnel?

Impact of product releases – When I push a new feature or initiative, how can I easily see what happened?

How can I do all this without a PhD in Astrophysics or needing SQL?
Deliverables:
Everything in Fast Track Plan

Martech stack setup

One - time inbound marketing campaign setup

Ongoing Optimization Plan
Learn how much will it cost to set up your Martech Stack, Inbound Marketing & Digital Marketing Strategy