84% of the businesses now believe that Artificial Intelligence will enable them to obtain and sustain a competitive advantage and 75% believe it enables them to venture into new business fields. This is mainly because AI enables the executives to focus on core business operations, as concluded by 72% of the surveyed executives in a PWC study.
From production to sales, marketing to reporting; AI implementation has the power to transform the organization as a whole and deliver measurable qualitative changes by ushering new avenues of business growth.
This quick guide focuses on the AI implementation in marketing strategy and the marketing automation tools you need to use.
Table of Contents:
S.No.

Title

1.

What is Artificial Intelligence?

2.

How to Implement Affordable AI in 3 Steps?

Step1. Omnichannel Marketing

Step2. Increasing ROI by Sales & Marketing team alignment.

Marketing Automation

CRM

Sales Forecasting

Step3. Reporting and tracking effectively from content to advertising to sales team ROI dashboard

3.

Grow better with HubSpot + AI

4.

AI Tools to Scale Your Marketing and Improve Productivity
Let's discuss all these in detail!
What is Artificial Intelligence?
Development of smart machines or systems having the ability to learn from the past processes, and using that knowledge for cognitive actions and making decisions with little or no human intervention is Artificial Intelligence.
Though the buzzword has several implications, in business context, AI founds three main implementation:
Robotics and cognitive automation to perform the repetitive tasks
Detecting patterns in vast volume of data and interpreting useful
Engaging employees and clients in natural language processing chatbots.
(As reported by Harvard Business Review in their independent study- Artificial Intelligence for the Real World)
How to Implement Affordable AI in 3 Steps?
Having cognizance of "What is Artificial Intelligence?" and the power it possesses to transform your business, all enterprises would like to implement this technology in their business operations. For the marketing strategy AI implementation steps include:
Step1. OmniChannel Marketing
Modern customers are no longer confined to a single mode of interaction with a brand. So, it's imperative to deliver them a unified experience across all platforms.
Irrespective of the platform, communication channel or the stage of customer journey; omnichannel marketing concept is aimed at offering the consistent content experience across all possible touchpoints, seamlessly.
Placing the customers at the heart of the marketing strategy, the efforts are towards a greater experience with the brand and the consistent customized communications creates greater conversions.
AI-powered automation tools work wonders in managing such a large amount of repetitive tasks, delivering a great ROI, effortlessly.
Step2. Increasing ROI by Sales & Marketing team alignment.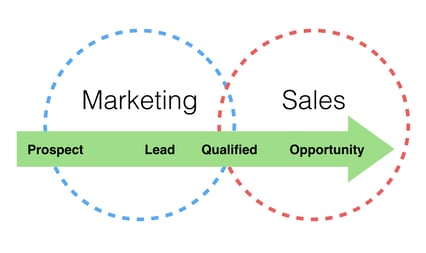 Organizations having alignment between sales and marketing teams are 67% more effective in closing the deals, and 36% higher customer retention. But half of the marketing leads are ignored by the sales team and 60-70% of marketing content gets wasted- says hubspot.
Also 59% marketers believe they know what material is required to boost the sales, but 35% sales reps accept that. In 33% of organizations, sales and marketing teams never have a standing meeting.
Both the marketing and sales team have a common goal of driving sales and boosting revenue, so their synchronization is highly crucial. The silos in both the teams is a long-standing struggle across all organizations, but with the following AI powered technologies the issues can be alleviated to a great extent and the goals can be easily obtained regarding what sales and marketing alignment is all about!
Deploying personalized and highly flexible MarTech Tools, the organizations can manage multi-functional campaigns, and with automated communications can individually target clients at different stages of funnel.
A centralized CRM application enables all the teams to have proactive, efficient & simplified collaborations having a greater accessibility to related data. The trustworthy reporting on sales dashboard with analytics greatly helps in keeping both the teams aligned.
Sales forecasting allows the business decision makers and the sales reps to make better informed decisions, and spot the probable issues within time to implement mitigation measures. There are various forecasting methods having different pros and cons. Based on the sales process, quota and a centralized CRM the forecast can be made, best suiting the needs.
Step3. Reporting and tracking effectively from content to advertising to sales team ROI dashboard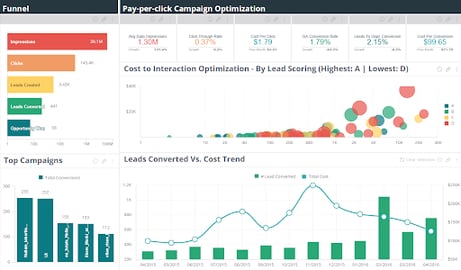 With ROI dashboard it gets pretty easy to track which prospect responded to the communication in which way. Such information, on a centralized dashboard empowers all the division to take the most optimized step to drive the sale.
Grow better with HubSpot + AI

From a simple marketing application in 2006 to an AI-powered marketing sales and service platform with more than 86,000 clients in over 120 nations, the effectiveness and customer-centric result oriented approach has enabled Hubspot to establish as an authority in a small time span.
With machine learning in the marketing and sales tools, the Hubspot+AI combination will enable the organizations to deliver more personalized experience, and get easily found by the clients for more conversions. Content Optimization and Clean Databases are other plus-points of Hubspot+AI.
AI Tools to Scale Your Marketing and Improve Productivity
Luckily, several marketing automation tools you need to use are easy to avail performing different marketing functions
Completely free to use CRM with several marketing functions at one place.
Best for: Managing leads and monitoring the operations.
Based on the prospect's interaction with the brand, it helps in targeting individually with specific messages.
Pricing is as per the contact lists and best for personalized messages with A/B Testing and conversion tracking.
Powerful marketing automation tool with CRM integration, lead nurturing, email marketing, and detailed reporting.
With cross-platform retargeting on different devices and flexible segmentation capabilities, the customized brand experience improves marketing efficiencies.
It is a voice-based marketing automation tool dramatically improving the ROI with analytics and call automation. With several other related features it is a game changer for businesses with voice interactions.
The B2B cross-channel marketing automation solution by Oracle, helps develop the automated campaigns and offers all the specific tools you need for leads-management.
The multi-channel marketing tool gives a 360 degree view of the sales and marketing metrics and works wonders in aligning both the teams.
The cloud-based platform connects both the outbound and inbound leads and offers various tools for important business operations. One can design the landing pages and interactive emails with utmost ease.
Different tools for the specific business operations are available to match the organizations needs. One needs to explore which suits best for the requirements.
Hope you find this information helpful.
If you are looking to learn about more benefits of AI in your business or you already have a tool in mind, we will be happy to discuss and help you build a solution around it.